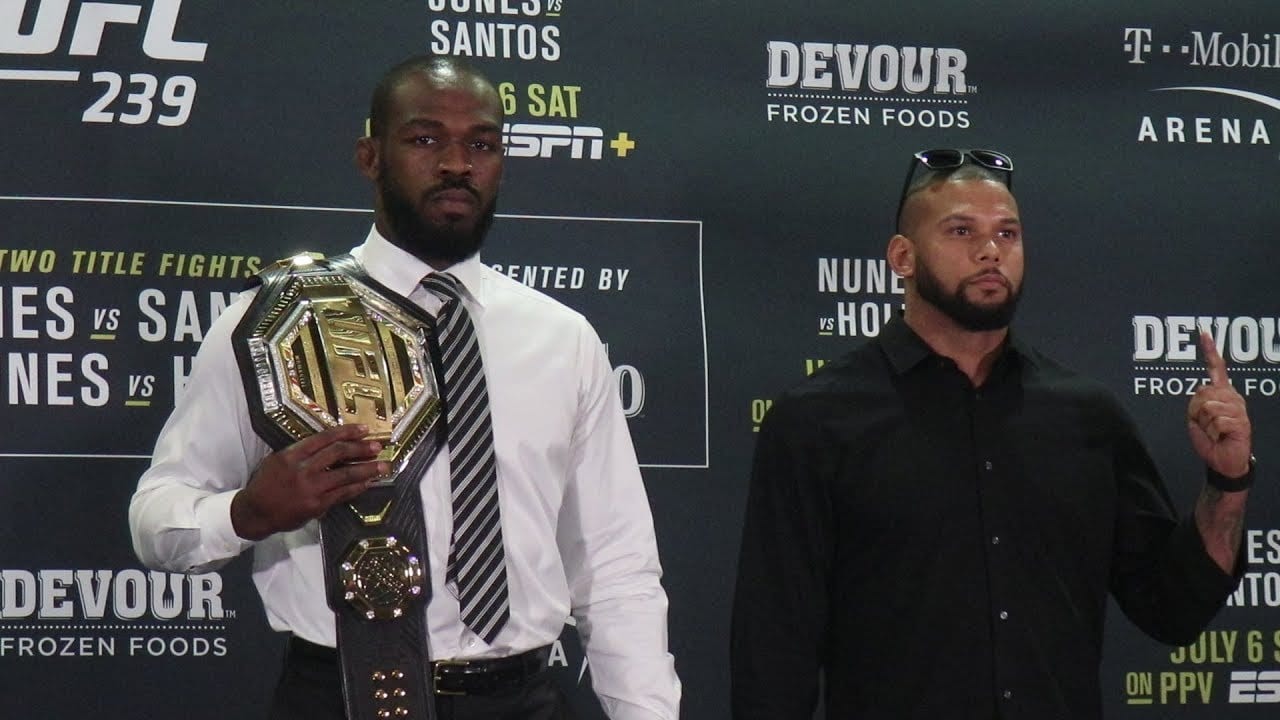 Last July, after 25-minutes stood face-to-face with Jon Jones inside the fighting arena he has dominated for more than a decade, Thiago Santos came closer than anyone before to defeating the all-time great. 
After five rounds one of the three cageside judges saw fit to award a points victory to the Brazilian striker. Had either of the other two shared his opinion the landscape of the UFC light heavyweight division would be entirely different, but the fight came at a personal cost to the fighter known as 'Marreta'.
Injuries to both of his knees in the fight mandated surgery in the days after it, severely restricting Santos' ability to, well, do very much of anything. Training was obviously and impossible task at the outset but as the weeks and months tick over, the 205-pound contender is beginning to see signs that the surgery and resulting physical therapy are paying dividends as he looks to resume his title tilt in 2020.
View this post on Instagram

Everything is different inside the octagon! . Tudo é diferente do lado de dentro do octógono!
"Man, the only thing I can't do is kick, but I can box, I can work on my hands and do conditioning training as well," Santos said in an interview with MMA Fighting. "I can even ride a bike. I'm not able to run yet. That's it. I can do a bunch of things, actually.
"I can do many things. I just can't run. But I can do a squat, work the upper part of my body, ride a bicycle. There are a few restrictions regarding weightlifting. I can't lift much weight with my legs, but I can do many things already."
This period of inactivity will extend likely until early next summer and the extended absence goes against the appetite for competition that he has shown on his career record. He competed four times between August of last year and the following February, with three of those being awarded 'Performance of the Night' honours.
As tough as it is, Santos says that it has forced him to appreciate life outside of the gym and the freedom it affords him to pursue other avenues of his life.
"Sometimes I didn't give much importance to going out, enjoying my day more, having fun with my family," he said. "I had no time for that since I was always taking one fight after the other, so I'm using this time for that now. To go out (and) enjoy my family, that's been good. Enjoy the beach, travel, you know? To stay away from the gym.
"I couldn't do it, but now I can. I can travel, I can hang out with my family. Even having lunch and dinner together during the week, things I couldn't do because I was always in the gym and had no time."
For all the benefits of having free time, one suspects that as soon as Santos is cleared to resume his fight career it will once again become his primary focus. The tight conclusion to his five round battle with Jones means that he will likely be inserted to the periphery of the title picture once again — and when he is, he says that he will be ready.
"If it was only up to me, being 100 percent, I don't need a tune-up fight," Santos said. "I don't need any of that. If I can train 100 percent, I'm sure I will get there ready to fight anyone."
Comments
comments