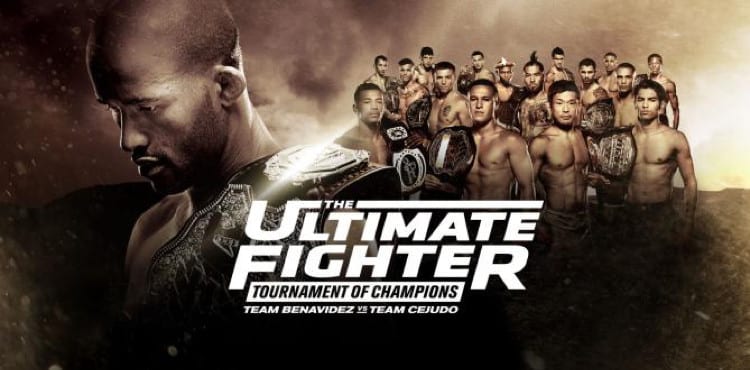 One of the more unlikely title challenges in UFC history takes place tonight at the finale of The Ultimate Fighter: Tournament of Champions when season winner Tim Elliott steps into the cage with one of the top pound-for-pound fighters in mixed martial arts, Demetrious Johnson.
Elliott, who entered the season of TUF as the reigning Titan FC featherweight titleholder will be looking to upgrade that strap for UFC gold but will face a challenge like no other when he squares off with Mighty Mouse — a fighter who is about as technically sound as anyone in the game today. But, as Elliott said during the week, he feels that he is exactly the type of fighter who can unravel the seemingly unbeatable champion.
Elsewhere on the card, there is another intriguing flyweight bout between two of the division's elite contenders in Joseph Benavidez and Henry Cejudo, with both fighters attempting to place themselves next in line for contention in the 125-pound division.
Will this be another successful title defense for Johnson, or will Elliott pull off the most unlikely of victories? See below for official predictions for selected bouts from tonight's card.
Demetrious Johnson (c) vs Tim Elliott
Not since Matt Serra challenged Georges St-Pierre for the welterweight title in 2007 on the back of his own victory at The Ultimate Fighter has someone entered a UFC title fight as big an underdog as Tim Elliott. It's worth noting, however, that one glance to the history books states that upsets do happen in MMA and Elliott will be looking to emulate Serra's unlikely title victory in Las Vegas tonight.
That said, there are differences between those two fights. St-Pierre came into that bout with Serra having just won the title from Matt Hughes and hadn't yet established the sort of dominance in his division that we have come to expect of Johnson, so an Elliott victory tonight would surely be considered among the biggest shocks every to take place in the Octagon.
To win, Elliott must have the best performance of his career. He is the naturally bigger man, so his gameplan must aim to use his natural advantages to stifle Johnson's incredibly rapid attacks. Throughout fight week Elliott has said that he will employ a similar strategy to the last man to beat Johnson, Dominick Cruz, who is a former training partner.
Easier said than done, however. Demetrious Johnson has been near perfect throughout his tenure in the UFC's flyweight frame. After opening his UFC flyweight career with a draw against Ian McCall, Mighty Mouse has won ten straight — nine of those being championship bouts — and they include victories over three opponents who hold wins over Elliott.
The Pick: Barring some unforeseen scenario, Demetrious Johnson wins this fight 9 times out of 10. Tim Elliott is a tough out for anyone in the flyweight division, but Demetrious Johnson isn't just anyone. The champion has several ways in which he can win this fight but our pick is a fourth round submission against a durable and spirited Elliott.
Joseph Benavidez vs Henry Cejudo
To be anyone in the UFC flyweight division right now not called Demetrious Johnson means that you're constantly involved in a never-ending game of catch-up with the champion, who has seemed near invincible so far in his reign with the belt. To be Joseph Benavidez or Henry Cejudo, two of the division's elite but who both already hold defeats to Johnson on their fight record, that's another thing entirely.
When a champion is as dominant as Demetrious Johnson has been, it leaves the rest of the divisional contenders with losses scattered among their records (times two in the case of Benavidez) and this means that rarely does a contender build enough consecutive wins to build someone momentum in the division before they're sent to the back of the line by DJ. For both of these fighters, a win here is an absolute must if they harbour any ambition of a title shot in the near future. A loss of Cejudo would be his second straight but as for Benavidez, who has won five consecutive fights, a win here will usher him back to the top of the division.
The Pick: For all his outstanding athletic accomplishments, Henry Cejduo doesn't yet look like a complete martial artist. His wrestling credentials are as it good as it gets but he hasn't yet displayed the type of dominant grappling which shuts down opponents in the UFC. Benavidez, on the other hands, is a wily fighter and comes into the fight with a significant experience edge on his opponent. Benavidez should take this by decision.
Jorge Masvidal vs Jake Ellenberger
Despite beating Matt Brown at UFC 201 in his last bout, you get the feeling that Jake Ellenberger is still on dangerous ground in the UFC. Prior to the Brown victory, Ellenberger had dropped five of his previous six fights and another loss here could convince the UFC that he doesn't have a future in the organisation.
They haven't given him an easy fight, either. Veteran of 41 fights, Jorge Masvidal is a tough ask for anyone at 170-pounds. 'Gamebred' has experienced patchy form recently too and this could lead to two fighters throwing caution to the wind in pursuit of victory.
The Pick: In his recent run Jake Ellenberger has lost fights in all three manners available: knockout, submission and decision. Evidence is beginning to suggest that the game has outlasted him and in Masvidal, he faces a fighter who is just that little bit quicker and with more technical strikes. The pick is Masvidal by second round stoppage due to strikes.
Ryan Hall vs Gray Maynard
Not much has been seen of Ryan Hall since he won The Ultimate Fighter a year ago but he steps into the Octagon tonight with every chance of victory against the diminishing talents of Gray Maynard. Hall is a submission expert whose ultra-tight grappling can constrict even the most experienced of fighters.
Since being a mere judges' decision away from UFC lightweight gold five years ago, Gray Maynard's career has taken a turn for the worse in the Octagon. Once the most feared wrestler at 155-pounds, Maynard has been the victim of successive stoppages inside the cage which have called into question his once granite chin. In all likelihood though, his chin won't exactly be the primary target for Hall's distinct arsenal of attack.
The Pick: Hall will look to close the distance at every opportunity to eliminate the risk of Maynard's strikes which almost took him to lightweight glory against Frankie Edgar years ago but in doing so he will find a Gray Maynard all to happy to play defense, get on top and shut his game down. A grappler as talented as Ryan Hall could pull something out of the bag against Maynard but the more likely scenario is that the wrestler stifles Hall's attacks in the same manner that Saul Rogers managed to when they met on The Ultimate Fighter. The pick is Gray Maynard to come out on top when the fight goes to the judges.
Comments
comments