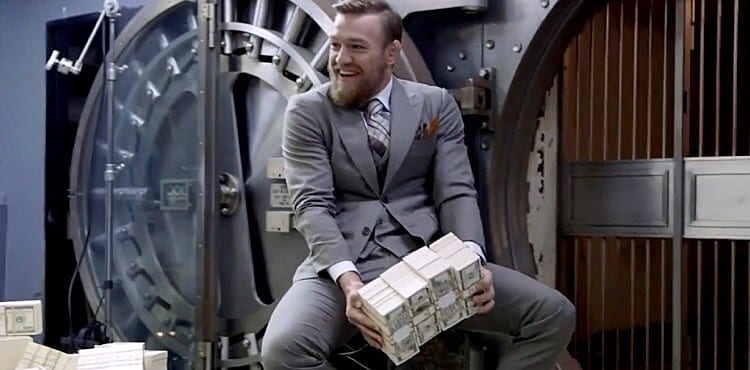 The UFC enjoyed its most successful pay-per-view year ever in 2016 but, despite its record-breaking year, an in-depth report into the PPV statistics compiled by MMAFighting.com's Dave Meltzer reveals some trends that will alarm the top brass at WME-IMG.
The report reveals an erosion of the tradition of title belts, or champions, being default draws and instead shows a reliance on star power to sell events. As it stands, just a fraction of the UFC roster seem capable of making a significant impact in boosting pay-per-view sales — and within that fraction, one fighter stands alone.
In 2016 five UFC events sold more than a million PPVs and three of those were headlined by Conor McGregor. UFC 200, a show which was boosted by a massive promotional budget, barely scraped over a million buys despite featuring the return of the PPV king of yesteryear, Brock Lesnar.
While there is the considerable variable of the eleventh hour withdrawal of Jon Jones from the event to consider, evidence suggests that even despite a hefty amount of backing from the UFC, along with it being a uniquely numbered event, the event sold several hundred thousand pay-per-views less than was originally forecast.
One glance at the statistics says that no one comes close to Conor McGregor when it comes to being a pay-per-view draw, but even in his elevated status as the company's number one star certain trends emerge. McGregor's second fight with Nate Diaz in August outsold his historic double-belt achievement in New York, despite the UFC 205 card in Madison Square Garden being loaded top to bottom with interesting fights.
This suggests that the in-built drama inherent to the second McGregor vs. Diaz at UFC 202 bout was far more interesting to the average consumer than a card loaded with big names, as UFC 205 most certainly was. In fact, some of the trends point to card-loading as being an overall negative for the UFC as it takes talent who could bolster events in the subsequent weeks and months.
As Meltzer cites, the UFC's landmark January FOX card was topped by BJ Penn vs. Yair Rodriguez — a considerable drop off from last year's Dominick Cruz vs. TJ Dillashaw bantamweight title fight.
While 2016, on the surface at least, was a bonanza year for UFC pay-per-view buys it was also a year which featured three Conor McGregor bouts and one each from Ronda Rousey and Lesnar — the latter two of whom have questionable futures in the sport at best.
While the return of Jon Jones this summer may provide a boost, his last fight with Ovince St. Preux underperformed. CM Punk is someone who may still garner PPV attention given his crossover appeal to the world of professional wrestling but given that his UFC debut was so ineffective it must be considered a hard sell to the average consumer.
One direction the UFC may look to go is the direction of more inter-divisional superfights, given the notion that there is now a landscape of superstars, rather than champions fighting #1 contenders, as being the true draws in the company.
So can we look for an assortment of the Diaz brothers, Georges St-Pierre, Michael Bisping Dominick Cruz, Tyron Woodley and Cody Garbrandt (to name but a few) fighting each other where divisions or catch-weights allow?
One thing is for certain: WME-IMG are in this business to yield a profit and no one on their books is more capable of doing that than Conor McGregor.
Comments
comments