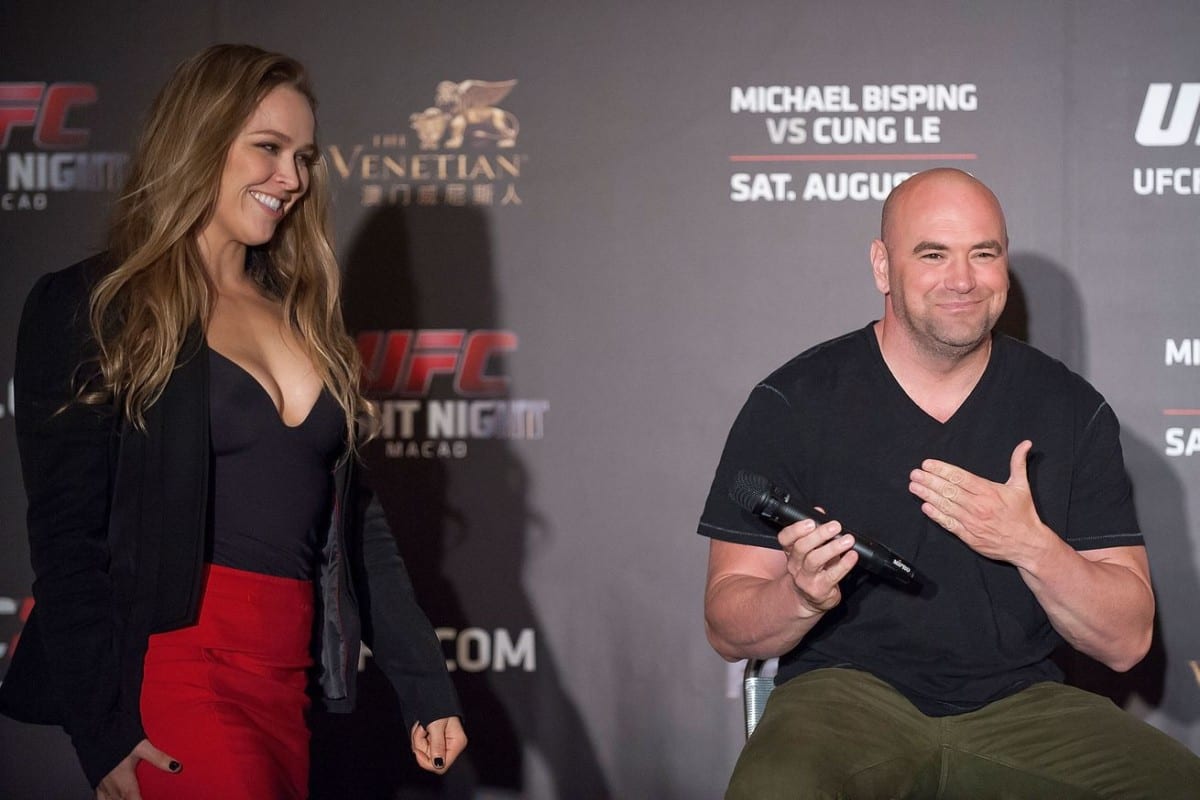 Welcome to the "In Case You Missed It" weekly round-up. Here, every Monday, we'll be taking a look at the top stories of mixed martial arts that emerged in the last week.
Over the last seven days, we've had (as usual) plenty to discuss in the world of MMA. The Korean Zombie returned with a bang, UFC President Dana White made a couple of announcements and the May-Mac talk continues. So let's take a look in case you missed it.
The Korean Zombie returns from a three year absence with a win
At one point "The Korean Zombie" Chan Sung Jung was a serious title contender in the featherweight division. Then, mandatory military service called for the South Korean and he had to take a prolonged absence from mixed martial arts.
He didn't skip a beat.
The Zombie returned on Saturday night to defeat Dennis Bermudez in the first round of the main event at UFC Houston.
Citing former UFC bantamweight champion Dominick Cruz as an inspiration for returning with minimal cage rust, Sung Jung looked decent in his first fight back, and enters back into a 145-pound division that's taken on a very different appearance since his leaving.
In return from latest controversy, Jon Jones to face Cormier-Johnson winner
Dana White got a little chatty over the last week too. Appearing on the UFC Unfiltered podcast, something that essentially means he's writing every MMA journalists articles for the day, White released a couple of little nuggets for fans.
First up, the imminent return of Jon Jones. Making a slight change from his previous statements in which he said the UFC wouldn't put Jones into the main event of a card due to them not being able to trust Jones' extra curricular behaviours, White plans on sticking Jones right back where he left of.
"Jon Jones is supposed to return around July so the timing is perfect. I haven't talked to him. I haven't talked to Jon Jones since the whole incident (at UFC 200)", white said on last weeks UFC Unfiltered podcast. "Depending on where Jon's head is and where he thinks he is, I would assume he would come right back and try to get his title back."
"If you're going to go in there and give it, at least go in and try to get your belt back", White said. "It's like everyone was saying Ronda (Rousey) should have had a tune up (fight). There are no tune-up fights. When you break into the top five in the world, everybody's nasty. What you don't want to do is lose to somebody (ranked) 8, 9, 10. It knocks you right out of the top 10 and it doesn't make sense."
No Return for 'Rowdy' Ronda Rousey
And speaking of Dana White, the real news he had to share last week was regarding Ms. Ronda Rousey, who he believes MMA fans have seen the last of.
"It's no different than any other sport. When you're a professional athlete and you're performing at a certain level, the day comes when you don't anymore," he said. "It happened to Ronda. This sport is very, very tough. You have to stay on top of your game and it's a young man and young woman's sport. Throughout the history of time in fighting, one day you just show up and you don't have it anymore. It always happened that way."
Ronda's leaving the sport in the manner which she did (slipping out of the T-Mobile arena after being demolished by Amanda Nunes with not a word said to the press) feels a far cry from the woman who emerged on the scene and broke down barriers.
But, perhaps it's really the most suitable way. Rousey clearly never recovered from the devestating loss to Holly Holm, and the huge amount of glee from fans who felt she had turned into an unsympathetic figure.
That reaction put Rousey even further into the "fuck them all" camp, and after refusing to speak to the media in the entire lead up to UFC 207, for her to change her tune now would feel odd.
Yet, it's still crazy to think that one of the loudest, biggest stars can disappear without a word.
Artem Lobov believes Conor McGregor would Knock Out Manny Pacquiao
And lastly, the talk of Conor McGregor's upcoming move into boxing continued with SBG stalwart and longtime McGregor training partner Artem Lobov offering his thoughts.
Lobov, who has been with McGregor from the very beginning, believes that the Irishman can succeed at anything he attempts and boxing is no different. Although, while the majority of people are pointing at a potential mega-fight with Floyd Mayweather, Lobov isn't entirely convinced the boxing icon will accept.
"I honestly feel that Mayweather doesn't want the fight," Lobov said. "Think about it this way, him and Pacquiao… it took them five years to make the fight happen and they are in the same sport. How is he now going to take on Conor, who is in his prime, is young motherfucker knocking everybody out. Mayweather is 40 now. He's not going to risk that, but he's making the most of it. You're not going to find a single article in the last year about Mayweather where Conor is not mentioned."
Instead, Lobov would rather see McGregor making his boxing debut against someone else who he considers a more game opponent. The other half of the biggest pay-per-view of all time — Manny Pacquiao.
"I know Pacquiao will take the fight," Lobov said. "It's a very realistic fight that could happen. I don't want to disrespect Pacquiao, he's a great fighter, but I think it would be quite an easy night for Conor. Pacquiao historically has done very bad with counter-punchers and Conor is one of the best counter-punchers on the planet. The range that he has on Pacquiao, he would just be hitting air the whole time. As fast as he is, it wouldn't be any different.
"Conor's footwork, his positioning, his elusiveness, his range — it would just be too much for Pacquiao. I feel that one would be over in one or two rounds."
Comments
comments