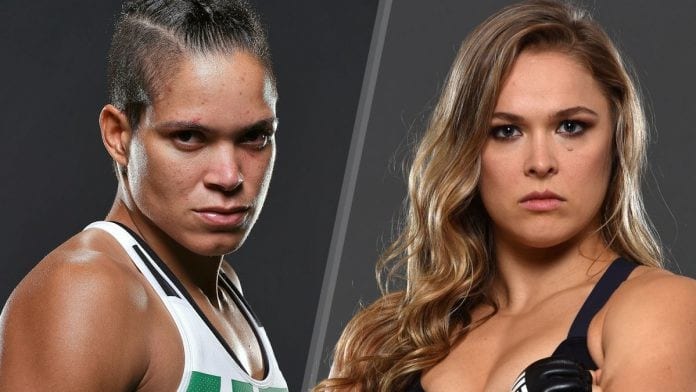 2016 has given us some incredible fights. Who will forget Robbie Lawler's incredible brawl with Carlos Condit earlier this year, or the classic Conor McGregor vs Nate Diaz rematch in August … but it doesn't stop there.
This year still has some incredible fights on the horizon and here are just ten that we're looking forward to taking place between now and the end of the year.
Robert Whittaker vs Derek Brunson, UFC Melbourne – 27th November
While UFC Melbourne admittedly lost a bit of its luster when the much anticipated rematch between Luke Rockhold and Jacare Souza fell off the card, the new main event also has massive ramifications in the middleweight rankings. The winner of the Whittaker and Brunson bout will have won six straight in the ultra-competitive 185 pound division and will be knocking on the door to be among the top five challengers to Michael Bisping's title. Both Whittaker and Brunson have been in incredible form recently and a win for either this weekend in Australia will easily be the most significant victory of their careers.
Joseph Benavidez vs Henry Cejudo, TUF Finale – 3rd December
Between them, Benavidez and Cejudo have tallied up three losses to flyweight supremo Demetrious Johnson but the two coaches on the latest season of The Ultimate Fighter will meet in just over a week's time to determine which of them can make a case for getting one more crack at the seemingly invincible 'Mighty Mouse'. Johnson will defend his title on the very same card against the winner of TUF tournament and if, as expected, Johnson claims a victory there will be renewed calls for him to step up in weight to challenge Dominick Cruz for his bantamweight title. But first we must wait and see how the flyweight division looks on the morning of December 4th.
Daniel Cormier (c) vs Anthony Johnson, UFC 196 – 10th December
It's take-two for the two best light heavyweights in the world not named Jon Jones. Daniel Cormier toppled the significant challenge of Anthony Johnson when they first met in May of last year but was tagged and dropped by the overwhelming power that Johnson possesses in his fists early in the first round. Cormier eventually composed himself and submitted his opponent with a third-round rear naked choke having escaped significant danger in the first round. This will likely be his strategy once more but it's an easier said thing than done to get out of the first round with Anthony Johnson with all your senses intact.
Max Holloway vs Anthony Pettis, UFC 196 – 10th December
John Kavanagh recently said that he thinks Max Holloway is the second best fighter at 145 pounds and the Hawaiian will have a chance to live up to this praise when he takes on former lightweight champion Anthony Pettis at UFC 196. On paper this should be fantastic bout between two high level strikers. Holloway has looked fantastic ever since losing to Conor McGregor in August 2013, winning nine straight successive bouts against tough opponents like Ricardo Lamas, Cub Swanson and Jeremy Stephens but will face his biggest threat yet in Pettis. 'Showtime' will be embarking on his second fight at 145 having dropped down from lightweight following three successive defeats and he knows that this is a must-win bout for him if he is to have ambitions of title contention once more.
Cub Swanson vs Doo Ho Choi, UFC 196 – 10th December
This one has fight of the night written all over it. Doo Ho Choi has long been prophecied as being one to watch at featherweight. The South Korean slugger has a very crowd-friendly style, as well as incredible power in his right hand, but in Swanson he faces a wiley veteran with a similar skill set who has seen it all before. A win here for Choi would be massive and would serve notice that there is a top new prospect at featherweight. Swanson, though, isn't done just yet. This should be a fantastic fight.
James Gallagher vs Anthony Taylor, Bellator Dublin – 16th December
SBG's James Gallagher steps into the Bellator ring in Dublin's 3 Arena in December with a reputation as being one of the top young prospects in the sport. The 4-0 Irishman takes on the 1-1 Anthony 'Pretty Boy' Taylor in the co-main event of Bellator's premiere Irish event and did well by placing Gallagher towards the summit of the card in the same city that he trains in. Gallagher is one of those fighters who improves immeasurably in between performances and given that we haven't seen him since his Bellator debut against Mike Cutting in July, it will be interesting to see what new skills he brings with him to the cage this time around.
King Mo Lawal vs Satoshi Ishii, Bellator Dublin – 16th December
King Mo, one of the jewels in Bellator's crown, will headline the company's first Dublin event next month against Japanese Olympic gold medalist judoka Satoshi Ishii. The Japanese has yet to really parlay his incredible judo career into success in mixed martial arts and has dropped fights over the years to fighters like Rampage Jackson, Mirko CroCop and Fedor Emelianenko. Lawal, meanwhile, comes into this fight on the back of a loss to Phil Davis and will be confident of establishing himself early against Ishii with the intention of getting back in the win column.
Sage Northcutt vs Mickey Gall, UFC On Fox – 17th December
The battle of the prospects. Mickey Gall has yet to really break a sweat in his UFC career so far, breezing past the ineffectual challenges of Mike Jackson and CM Punk but in Sage Northcutt he will receive a challenge more befitting his skills. Northcutt has looked in impressive shape since making his UFC debut, mixing up an unpredictable kickboxing routine with solid grappling. As for Gall, it's difficult to really tell where he stands as he has not faced even a moment's adversity in the UFC cage. His submission game is clearly a big weapon and given that Sage's one loss in the UFC so far was the result of a choke, Gall will surely look to test Northcutt on the ground.
Dominick Cruz (c) vs Cody Garbrandt, UFC 207 – 30th December
Cody Garbrandt becomes the latest Team Alpha Male fighter to attempt to wrestle the bantamweight strap from the clutches of Dominick Cruz at UFC 207, but can he succeed where the likes of Urijah Faber and TJ Dillashaw have failed? Cruz is one of the most difficult puzzles to solve in mixed martial arts. His economy of movement means that he rarely puts himself in the position to take any damage, while his choice of angles and footwork is about as good as it gets in the sport. Garbrandt has showed solid stopping power in his UFC career thus far but when facing Cruz he will be restricted to only a small percentage of the opportunities to punish his opponents that he's used to.
Amanda Nunes (c) vs Ronda Rousey, UFC 207 – 30th December
The most intriguing fight left in 2017. Ronda Rousey appears to have already begun her exit strategy from mixed martial arts and one wonders if a loss to Amanda Nunes next month would expedite her leaving the sport. While there's been something of a power vacuum in the women's bantamweight division since Holly Holm ended Ronda Rousey's title run a year ago, it finally seems that the belt has settled around the waist of Nunes. Rousey, on the other hand, doesn't seem to enjoy the media attention that came hand-in-hand with her last title run. Prior to the loss to Holm, Ronda appeared about as invincible as an MMA fighter can get. One headkick later, she appeared utterly mortal. Which one of these Rouseys will show up in the cage at UFC 207?
Comments
comments