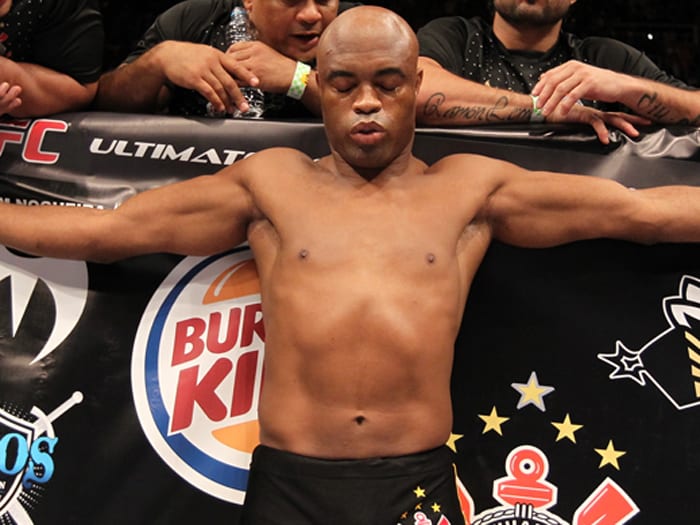 "I back."
Yep. UFC 200 got yet another shake up late Thursday night as it was confirmed that it would indeed be Anderson Silva stepping in to face Daniel Cormier as a replacement for Jon Jones.
Cormier vs Silva!!! #UFC200 pic.twitter.com/c2QYsgEb68

— Dana White (@danawhite) July 8, 2016
In a press conference shortly following the UFC Fight Night: Dos Anjos vs. Alvarez, UFC President Dana White spoke that he had been contacted by Gegard Mousasi, Dan Henderson and then finally Silva
"Gegard has a fight on UFC 200, so we'd be leaving a guy who got ready and prepared for his fight with Gegard with no opponent, which I hate," White said. "Then Dan Henderson called and wanting the fight, which I appreciate, but we got plans for Dan."
So with those two out of contention, and after Silva passed all his medicals, the bout was confirmed as a three round fight at Light Heavyweight, with Cormier's title not on the line.
Silva was last seen in February, where he lost to Michael Bisping by decision. He was originally scheduled to make his return at UFC 198 in Curitiba, Brazil, but was pulled from the card just days before the event due to requiring Gall Bladder surgery.
Despite coming into the fight with less than fantastic conditions, Anderson made it clear he was ready for the fight.
"I think I'm in good shape, and I don't want Daniel or anyone else to think I'm underestimating or coming in here to try to challenge a champion," said Silva through an interpreter. "I'm not doing any of that. I'm here to challenge myself. I've been training a few months, but I think I'm in a good condition to go in there and put on a fight."
With the confirmation of Silva on the card, came another announcement.
Less than 24 hours after Brock Lesnar and Mark Hunt were promoted to the UFC 200 main event, were they demoted and returned back to their position as co-main. Instead, Womens bantamweight champion Miesha Tate and her opponent Amanda Nunes will be the final fight on the card.
It's an incredible moment for the sport, as it was just five years ago that UFC President Dana White said the now infamous words that we would never see women in the UFC.
So unless something changes in the next 24 hours…and let's face it, something might, the UFC 200 card is as follows:
Miesha Tate vs. Amanda Nunes
Brock Lesnar vs. Mark Hunt
Daniel Cormier vs. Anderson Silva
Jose Aldo vs. Frankie Edgar
Cain Velasquez vs. Travis Browne
Written By: Oscar Stephens-Willis
Comments
comments