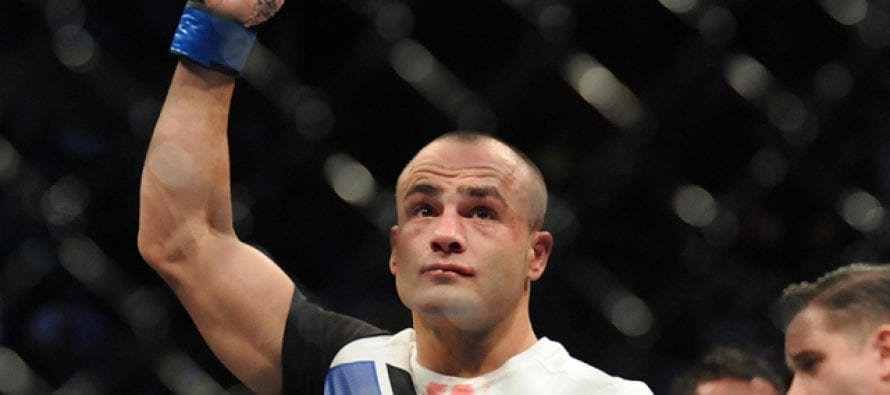 Watch video below
#ICYMI Eddie Alvarez TKOs Rafael dos Anjos in the 1st round to win the lightweight title #UFCVegas #UFCFightWeek pic.twitter.com/6ANL4LFiYX

— William Hill Betting (@WilliamHill) July 8, 2016
Well, it's the first (but likely not the last) call out for UFC featherweight Conor McGregor this weekend.
In the post-fight press conference following his win over Rafael Dos Anjos and capture of the UFC lightweight championship, Eddie Alvarez had his opinion asked of a potential fight with 'The Notorious One'.
He didn't shy away.
"I think by far the best lightweight in this division is Rafael Dos Anjos," Alvarez said. "I had the better night tonight, for sure, but this can go either way. There's great competitors and there's real small margin for error, and if you mess up once it could have been me on the other end of that punch. [Dos Anjos] is the best in the division, so to be able to come out with a win over him, and before him was [Anthony] Pettis and before him was Gilbert [Melendez].
"I'm not taking on top 15, so I would ask Dana White, please to give me an easier fight like Conor Mcgregor. I deserve that, I've been fighting the best guys, so I would like a gimme fight. So, Conor, I'd more than welcome that."
Unfortunately, with McGregor taking on Nate Diaz at UFC 202, and announced his plan to return to the featherweight division following that, it's unlikely we'll see him and Alvarez meet anytime soon.
However anything can happen in this unpredictable sport. What do you think would you like to see McGregor fight for the lightweight belt next? Have your say in the comments below.
Written by: Oscar Stephens-Willis
Comments
comments