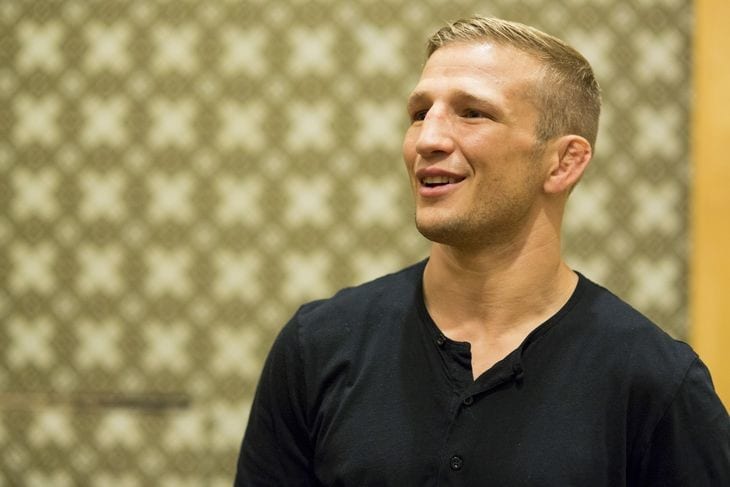 T.J. Dillashaw might be public enemy number one to many of the UFC's bantamweight fold as he emerges from his two-year suspension for taking the banned substance EPO prior to his defeat to Henry Cejudo, but that hasn't stopped him taking a shot at the man he will meet on his return.
Former UFC 135-pound champ Dillashaw will make his comeback to the cage on May 8 against top contender Sandhagen, the man who has wracked up successive finishes of well-regarded fighters Frankie Edgar and Marlon Moraes in his two most recent outings in the cage.
Sandhagen has been forthright in the media when speaking about Dillashaw's past transgressions ahead of their content next month but Dillashaw says that, while he likes Sandhagen, he's acting like a 'douche' nowadays.
"I like Cory Sandhagen," Dillashaw said. "He's become a little bit of a douche lately, talking that sh*t which he's gotta do, that's the name of the game, but I like Cory Sandhagen. I like all of his coaches, I like Elevation Fight Team, but that's the business. We're gonna get out there, we're gonna handle it, and I'm gonna come back and get my belt," Dillashaw said to ESPN, via MMA Fighting.
View this post on Instagram
"Oh just talking sh*t about how me failing a drug test and then something about me taking the worst steroid you could possibly take, which I wasn't even taking a steroid," Dillashaw said when asked to explain. "Just running his mouth on certain interviews and stuff of things he knows is complete nonsense. Just pumping himself up and making himself feel like he's got a chance in this fight."
Amid the histrionics, this is a fight which should have significant influence on the immediate future of the UFC's bantamweight division and Dillashaw says that this is the first step in him regaining his belt, something he is targeting before the end of 2021.
"It wasn't the only option but it is the one that is great," he said. "I love this fight. He's got a lot of hype behind him. He's has two good wins, people are blowing him up right now but it's such a good fight for me to get right back on top, right where I left off. I'll have the belt around my waist by the end of the year."
Comments
comments