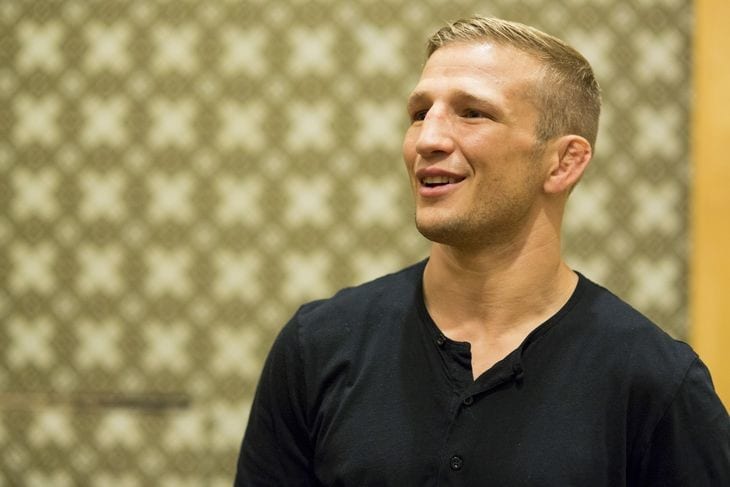 While Dominick Cruz is Team Alpha Male enemy number one, it seems as if former teammate T.J. Dillashaw could be making spot number two his own.
Dillashaw, who trained with Urijah Faber's team for years before leaving to find a new camp with instructor Duane Ludwig, didn't have a particularly amicable split with his former coaches, and as such is persona non-grata in the Sacramento-based circle.
But, with Faber student Cody Garbrandt the new bantamweight king, it seems as if Dillashaw and his old life are set to collide.
"He knows putting [the title] on the line against me is a very tough fight," Dillashaw said, speaking on Chael Sonnen's podcast 'You're Welcome'. "We've practiced a lot together, and he knows how good of a fighter I am. He knows he doesn't want that fight, so what can you do?
"He set it up perfectly after that fight [at 207] when he said, 'Come get me TJ Dillashaw,' and then 40 minutes later he's sitting in the press conference talking about how he wants to give Cruz a rematch. He's going to do whatever he can to avoid it, but it's inevitable, man. It's in the hype machine already; I've pumped it, and he's pumped it up. We have the story, and it's going to be an awesome fight.
"There's no way around it. This is going to be an awesome fight, and I'm going to get my belt back against Cody Garbrandt."
When Dillashaw references the 'hype machine', he's not wrong. As we've seen on so many occasions, the more of a story there is to provide context to a fight, the more the UFC are likely to get the fight made. And there is very much a story here.
Garbrandt and Dillashaw trained together in the years leading up to Dillashaw's departure, and already rumours and trash-talking has emerged based on their time together. The champion has publicly stated he possesses a video of him knocking out Dillashaw, while T.J. himself believes he showed himself to be the superior fighter time and time again.
"We trained for at least a couple of years I think," Dillashaw said. "It's never all about the practices, but if we scored it, I'd definitely be the majority winner there. I would win 75 percent of the time. That's the way I see it.
"I know I'm in his head. Not only am I in his head, but I'm a better fighter. I'm more well-rounded and I've got more dangerous weapons. He's got a hard right hand and he's fast, but I'm going to push him and I'm going to break him.
"I'm a goer, I'm aggressive and I'm bringing it. It's the only speed I know, and he knows how tough it's going to be."
Comments
comments