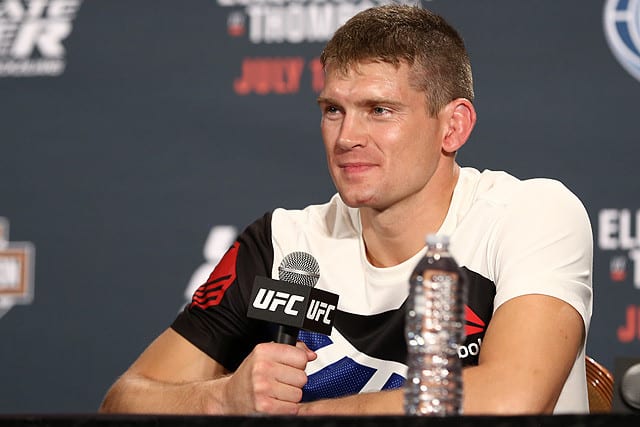 Stephen Thompson is starting to get a little irritated with having to wait for Tyron Woodley to accept and agree to a rematch.
The two went five rounds last month at UFC 205, and after an incredible back and forth affair, both men stood in the Octagon with their hands raised in a draw. While the judges scorecards can be picked upon and debated, plenty of fans and pundits agree that in order to clear up the mess, the most sensible thing would be to have the two duke it out one more time.
But, while Thompson agrees, the welterweight champion Woodley doesn't seem to be too keen on the idea, instead preferring to target what he considers to be 'money fights'. With the two engaging in an ongoing (and increasingly bitter) war of words on social media, 'Wonderboy' Thompson feels like it's time to start pushing the issue.
"I was given a contract weeks ago and it's been signed for weeks," Thompson said, speaking on MMAFighting's The MMA Hour. "So we're just waiting on his signature, waiting for him to man up and do what everybody knows he should do and he's not doing it. And it's very disappointing. To me, he's just not acting like a champion. It was a draw. He even said that we have unfinished business, but it seems like he's just calling out everybody else but me.
"He's called out Georges St-Pierre, Nick Diaz, Demian Maia. He's even gone to the point where he wanted to go up a weight class to fight Bisping. It's like the bully in the room and he's looking for everybody else who he probably knows aren't going to fight him. The fans don't want to see it. The UFC doesn't want to see it. It just doesn't make sense. I mean, calling out Nick Diaz, who hasn't fought in years? And he's just kinda turning his back, turning his head to the one guy who will fight him and I think should fight him, and that's me."
The online banter started when Thompson took to his Twitter and posted a signed bout agreement, before calling on Woodley to do the same.
Waiting on you @TWooodley pic.twitter.com/XwFqePtVbe

— Stephen Thompson (@WonderboyMMA) January 9, 2017
In return, Woodley continued his ridiculing of Thompson, repeating that he felt the Karate dynamo lost their first encounter. But, with their records clearly showing a majority draw, Thompson feels Woodley's attitude isn't becoming of a title holder.
"Enough is enough," Thompson said. "It just really frustrates me to see a champion, or somebody say their a champion, acting the way that he's acting. Going out of that last fight with a draw, still having the belt around his waist saying that he won the fight? It's almost like he's happy with a participation trophy. And that's not, to me, how a champion should act.
"A draw is a draw. I mean, it's like the fight didn't even happen. It was a tie, and what baffles me is that he's okay with that. You're really not defending the title. It was a tie. So, you have to go for round two to determine who the true winner is, who the winner of that and the rightful owner of that belt is, and that's what just makes me mad. I fight for the honour and the glory, and that's just not being very honourable to me and a true champion. If it was me on the other end, before I even stepped out of the cage, I'd be asking for a rematch because there was no winner."
Most of all though, what Thompson takes issue with, is that Woodley seems content to pick and choose who he wants to fight in order to make the most money as a champion.
Hey @demianmaia what you got going on March 4th 2017? I'm free #ufc209 @ufc Las Vegas! Since people want me to fight who "Deserves" a shot.

— Tyron T-Wood Woodley (@TWooodley) January 9, 2017
For Thompson, that's not what he expects from those at the highest level of the sport.
"If you're champion, if you are the champion, prove it," Thompson said. "Fight the number-one contender. Don't be picking and choosing and trying to pick everybody else but the rightful guy. And he's even said that we have unfinished business, I think it was right after the fight. But yeah man, it's just disappointing and I think a lot of the fans are seeing that, and it just doesn't look good for him.
"I know that he's got a bout agreement sitting there in his home. He's probably looking at it right now. He just needs to man up and sign it. Just sign it and let's determine who the real champion is. And I think he knows, which is why he's not signing it."
UPDATE
Since Thompson appeared on The MMA Hour, Woodley has responded to the comments, and announced on his podcast 'The Morning Wood' that he had accepted the rematch at UFC 209.
UFC President Dana White then confirmed the news with MMAJunkie reporter John Morgan.
Just confirmed with @danawhite that @TWooodley vs. @WonderboyMMA is on for #UFC209.

— John Morgan (@MMAjunkieJohn) January 9, 2017
Comments
comments