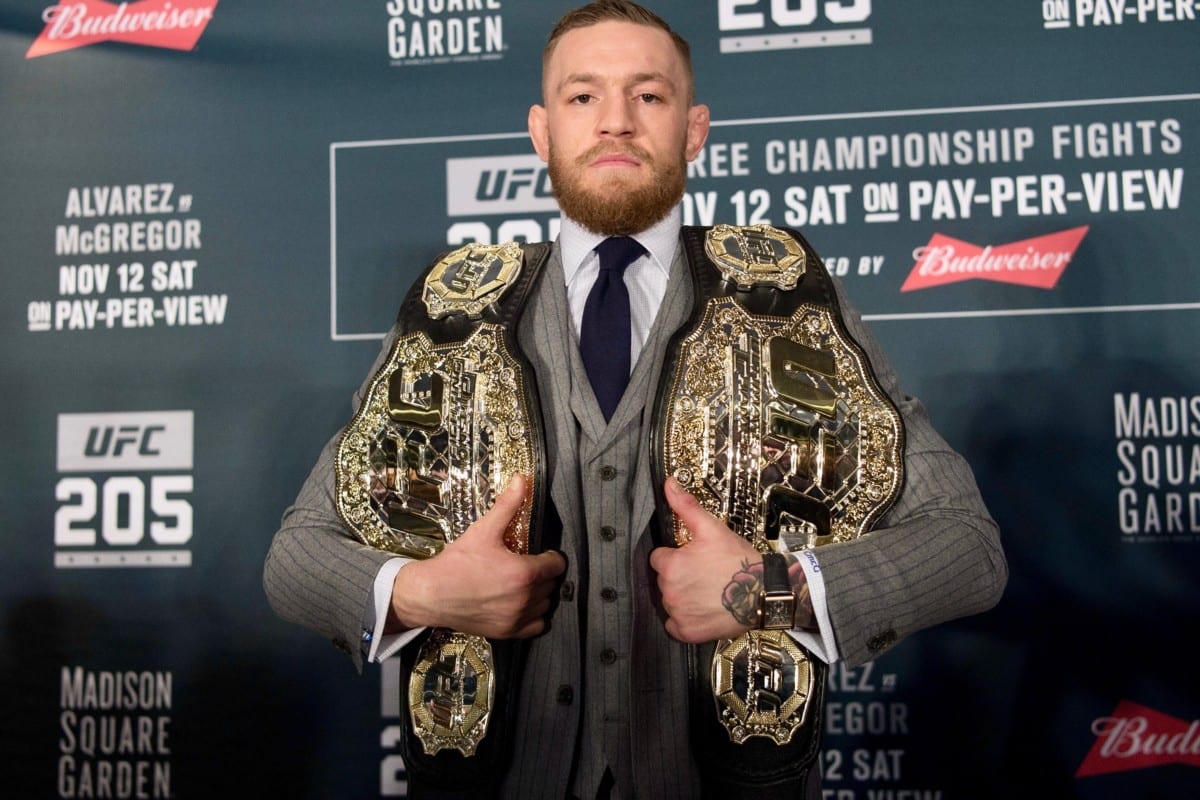 It has been one hell of a year for SBG Ireland. The gym which started in a damp garage with barely enough room to execute a takedown, has graduated into one of the most respected fight camps on the planet. Its patriarch, John Kavanagh, is now one of the most respected coaches and fight strategists in the sport and, hell, he's even a best-selling author now.
Not so long ago it seemed almost impossible that the level of incredible success that Kavanagh's fight team experienced this year could happen but now SBG Ireland has one of the most high-tech facilities in the world and guides the fight careers of numerous high level professionals and amateurs.
With new SBG facilities opening up regularly throughout Ireland, it seems that there's going to be even more to come in 2017 but what follows are a few highlights from another incredibly successful year inside SBG Ireland.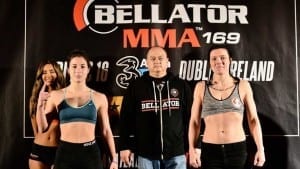 Sinead Kavanagh (right) is a perfect 4-0 in her professional career
The emergence of a new breed of fighters
When SBG Ireland first began to make waves as a high profile fight team it was largely based off the efforts of the likes of Conor McGregor, Cathal Pendred, Paddy Holohan, Gunnar Nelson, Chris Fields and Aisling Daly. While McGregor is at the absolute summit of the sport and Nelson is considered one of the best fighters in the 170-pound fold, Pendred and Holohan have both retired, Daly has experienced a series of injury setbacks and Fields has been the unlucky recipient of recent opponent withdrawals which have stifled his momentum.
But now, as we open 2017, there is a new breed of fighters beginning to make names for themselves under the banner of SBG Ireland. James Gallagher is possibly the highest profile (we'll come back to him shortly), but aside from 'The Strabanimal' there is an ever expanding assembly line of young talent beginning to emerge from the tutelage of John Kavanagh, Owen Roddy and Holohan (among others). Sinead Kavanagh, who dominated Elina Kallionidou for three rounds on the recent Bellator Dublin card appears on the verge of stardom. Ryan Curtis, a 3-0 flyweight who trains under Owen Roddy at SBG Charlestown, is within a win or two of knocking on the UFC's door.
Kiefer Crosbie looked sensational in his BAMMA 27 submission win over Conor Riordan last month, while dynamic striker Cian Cowley looks set to make a big impression on the professional ranks before long. Dave 'Yogurty' Fogarty, one of Owen Roddy's charges at SBG Charlestown, is another who has assembled an exemplary collection of medals in the amateur ranks and, despite a setback last month, Dylan Tuke remains one of the top prospects in Europe.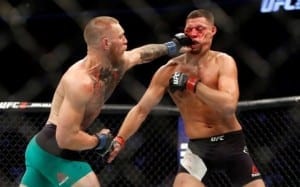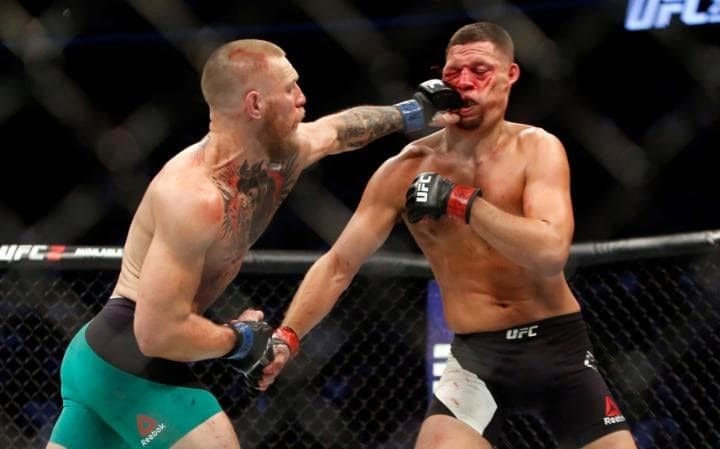 Conor McGregor lands a left hand on Nate Diaz at UFC 202
Conor McGregor rebounds against Nate Diaz
They say that a sign of madness is to do the same thing twice and expect different results and it was very much this order of approach the John Kavanagh decided upon when working with Conor McGregor to prepare for his second duel with Nate Diaz last August.
Kavanagh's strategy, coupled with an intense cardio training regimen, overwrote the blind spots they experienced in the first bout with Diaz several months prior and brought his fighter to a level capable of winning a grueling, five-round classic of a contest where McGregor outworked a triathlete to win judge's decision victory in one of the best fights seen inside the octagon in 2016.
McGregor employed a patient strategy, using superior boxing to flummox his opponent in the early rounds, flooring Diaz three times in the first two frames. Diaz, though, is as gritty a competitor as there is in mixed martial arts and held firm throughout a punishing 25-minute contest.
When it was all said and done, it was the Irishman whose hand was raised. The king was indeed back.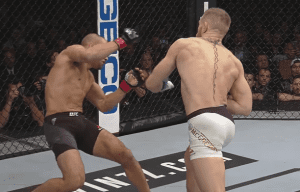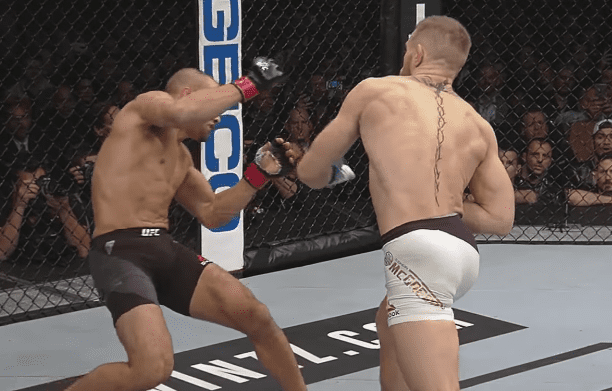 McGregor drops Alvarez at UFC 205
Double world champion
It seems fitting that the biggest UFC show in history was headlined by the sport's biggest star, achieving something which had never taken place in the history of mixed martial arts. Last November at UFC 205, a sublime four-punch combination heralded the end of Eddie Alvarez's UFC lightweight title reign and placed a second gold belt around the shoulder of Conor McGregor inside the grandest fighting stage of them all, Madison Square Garden.
McGregor's title win was about as flawless a performance as has ever been seen in a high level UFC championship bout. Alvarez was on the canvas on numerous occasions in the first round, as McGregor's concussive left hand continually found a home over, under or through the Philadelphian's guard. Finally, when Alvarez was floored with midway through the second round with a stunning sequence of blows, referee John McCarthy called a halt to the bout and wrote McGregor's name large in the annals of combat history.
Turns out there is a Santa Claus, after all.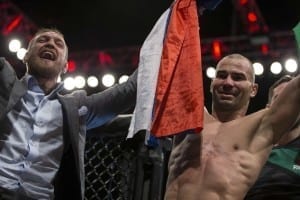 Artem Lobov celebrates with Conor McGregor following UFC Belfast
Artem Lobov's resurgence
After beginning his UFC career with two defeats Artem Lobov found himself backed into a corner. It turns out that's a very dangerous place to put 'The Russian Hammer'. At UFC 202, Lobov easily dismantled Nate Diaz's training partner Chris Avila for a decision victory but it was his performance in November against highly-touted Team Alpha Male prospect Teruto Ishihara which showed exactly how devastating force Lobov can be in the UFC's featherweight fold.
As Lobov will tell you himself, he somehow reserves his best performances inside the cage when he's facing highly dangerous opponents and against the Japanese — a fighter going into the bout on the back of two straight decisive knockout victories — Lobov turned in arguably the best performance of his career. Throughout the three rounds, Lobov had Ishihara retreating and seemingly incapable of finding an answer for the SBG fighter's vast array of striking techniques.
In the end, it was a dominant victory for Lobov which sent the Belfast crowd — and a ringside Conor McGregor — into raptures.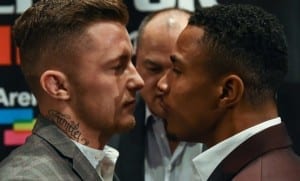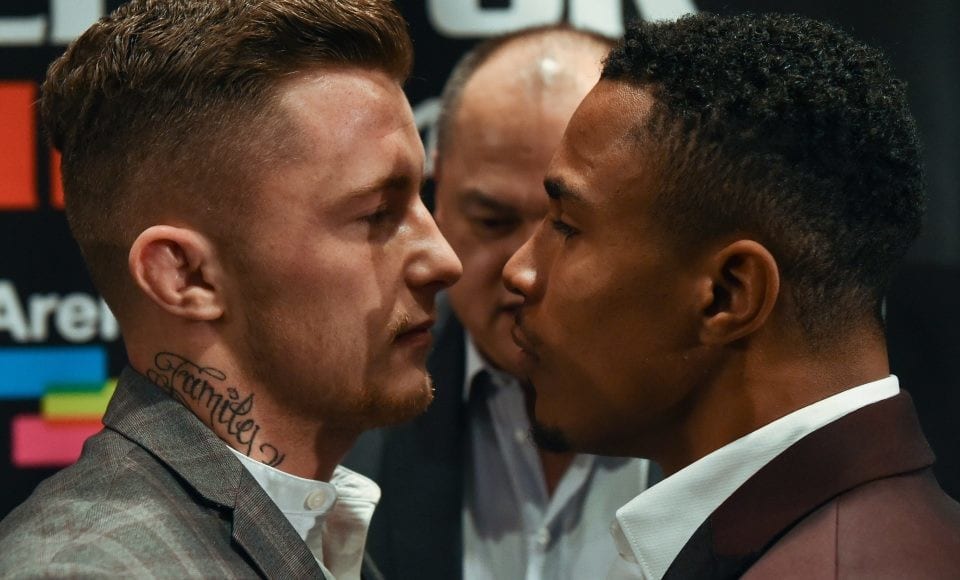 James Gallagher stares down Anthony Taylor
James Gallagher announces himself on the biggest stage
It seems incredible to think it but James Gallagher is just a couple of months removed from his 20th birthday and is already 5-0 in his professional career (with four of those being submissions), as well as 2-0 inside the Bellator cage.
Last month inside the 3Arena, Gallagher fought on the biggest stage of his career in the co-main event of Bellator's Dublin card and earned another submission victory with a third round rear naked choke of his American opponent. Gallagher is one of those fighters who is still improving by leaps and bounds on an almost daily basis and it's going to be fascinating to see exactly where his potential can take him.
Something tells us 2017 is going to be another big one for 'The Strabanimal', as well as SBG Ireland as a whole.
Comments
comments