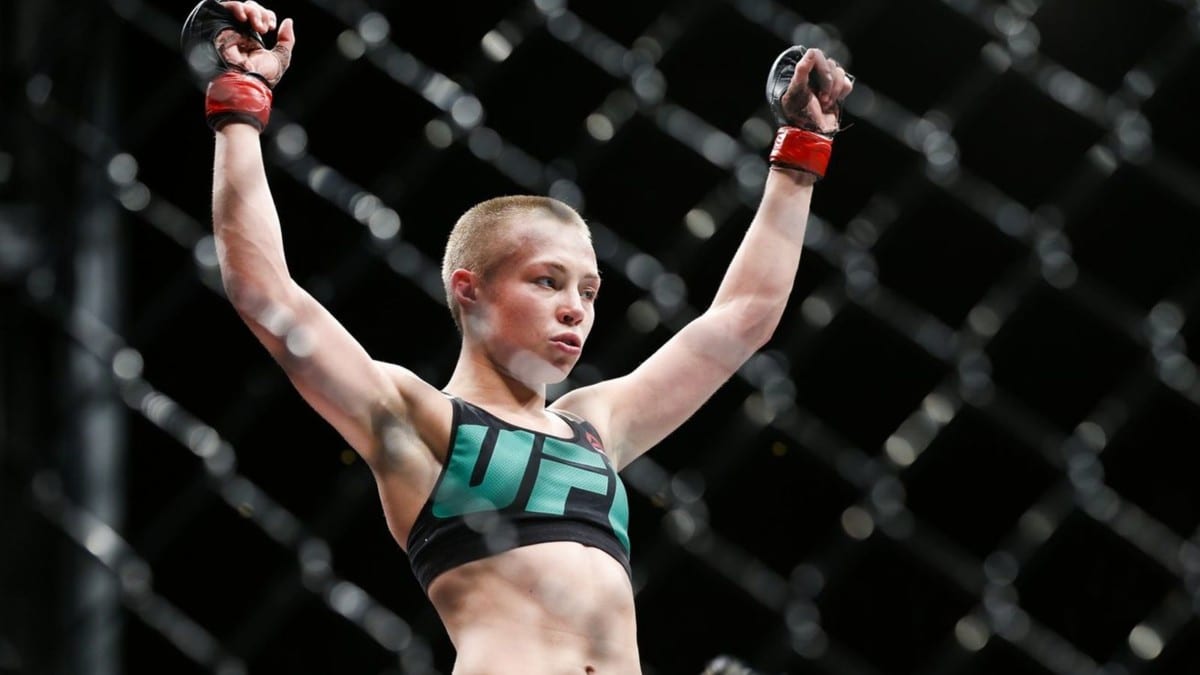 Rose Namajunas is just about ready to get back into the Octagon.
Having not fought since her last appearance (a loss to Karolina Kowalkiewicz in July), Namajunas has taken a rare opportunity to recharge her batteries away from MMA for a moment. Now, fresh and recuperated, she's looking at getting back to fighting.
Recently, she called for a bout with fellow UFC strawweight Michelle Waterson, who made headlines after defeating Paige VanZant in December. And while that fight is still something that interests Namajunas, at this point she's ready to take on all comers.
"I haven't really heard anything concrete, I'm just kind of waiting around," Namajunas said. "I wouldn't mind fighting anybody at this point. Obviously that [Waterson] fight intrigues me the most, and I think that fight is what people want to see the most and it kind of makes sense – but I just wanna fight.
"Around March was what I was originally aiming for, UFC might be pushing for April. We'll see."
While the loss to Kowalkiewicz was clearly disappointing, it did offer the 24-year old a chance to step back and not only learn from her mistakes, but also learn to grow as a modern day mixed martial artist.
For example, a new aspect of the fight game Namajunas has learned to embrace is promotion, and she has become one of the few fighters in the UFC to use opportunities outside of the cage to open up to fans — namely, her video blog series "The Thug Diaries."
The diaries, which came to be after recording videos of her training sessions expanded to recording videos of her day-to-day life, show a Namajunas outside of fighting and away from the violence of the cage. For Rose, it's a way to give fans more to remember.
"I think it's a tremendous advantage over your opponents [and] people you're in competition with if you can market yourself and if you can have something to say and people want to see you," she says. "They only remember the fight, if you watch a fight, people don't really remember it that well. They remember the build-up to it, after the fact, what you say; that all adds to it and amplifies it.
"I think it's really important to know how to market yourself, because somebody that can be really talented might not get the same opportunities that somebody else can have that's maybe equal than or slightly lesser than [talent wise], but can talk a great game. It just depends on if people want to see you fight."
A large motivation is also to reveal her true character. Most fighters are seen through the single lense of fight week, where many cut intense figures that are focused on one thing. Because of that, it's easy to forget that these tremendous athletes are complex humans with nuanced and unique personalities.
If fighters are willing to be seen through one aspect only, Namajunas says, then they imprison themselves in a public persona.
"If you're the type of character that doesn't say anything, and you're just a stone cold killer, then you have to be that 24/7," Namajunas said. "Whereas my personality is very.. It goes in all different directions. So for me, I can wake up any given day and just be myself. Some other people have to come at it at a different angle and be a shit talker. It's just one of those things where you have to choose your path and stick with it.
"That's the thing that sucks with Ronda Rousey. She's a superstar, she's the most marketable female of all time, but she's a badass and that's her character. She's a badass 24/7, so when she has one bad day, she's not that person anymore[…]She doesn't show any vulnerability, so the one moment that she's vulnerable, it makes her seem weak or insignificant, whereas I think she just puts too much pressure on herself."
Comments
comments