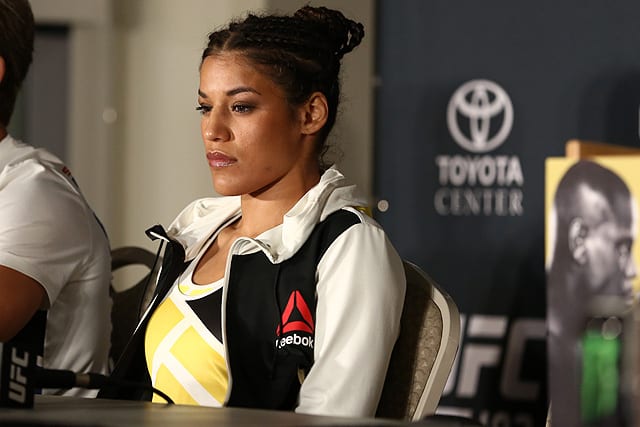 Julianna Peña didn't particularly want to face Valentina Shevchenko. Instead, "The Venezuelan Vixen" would much rather have gone straight to face the winner of Nunes vs. Rousey — a fight she felt she deserved.
However with fans calling for her to first face Shevchenko, (who was last seen defeating Holly Holm with a spectacular performance), and the UFC declining to grant her number one contender status, Peña has reluctantly accepted her position.
"I think this fight is a long time coming and this is a fight that the fans have been dying for," Peña said, speaking to BloodyElbow. "It's a fight that the fans have been chirping in my ear about nonstop and people have been telling me that I'm scared to take the fight, but it has nothing to do with that and more so the fact that I felt if I wouldn't have fought, I probably would have been fighting for title anyways right now, if I would have just sat and waited.
"But that's not the way the cookie crumbles and unfortunately the fans wanted to see me fight one more time before I fight for the belt, so I'm actually doing this fight for the fans and doing a fight which they have asked for and have requested for me for a long time now, so I hope that I make them happy and then they can be a little bit grateful for the fact I am putting it all on the line for them."
But reluctance or not, recently Peña was quoted as saying she finds herself "obsessed" with Shevchenko, and has been studying her opponent constantly during this training camp. Because of that, Peña believes she knows exactly what to expect when fight night comes around.
"I've seen her struggle in positions on the ground," said Peña. "Like, getting submissions and then letting them go and not really being too familiar with the finishes, but I know she's working on the ground sharpening up her ground skills so I'm anticipating the best Valentina that there ever has been and that she'll be covering all her bases as far as the wrestling and jiu jitsu goes, as I have with the stand up."
And of course, should she pull off a victory next Saturday night, Peña expects one thing and one thing only — a title shot.
"I definitely think I've been deserving of a title shot for a long time now and if I don't get a title shot [next] then I'll be baffled," Peña said, who has made no bones about her dislike for UFC match-making in the past. "At the end of the day, my main focus right now, and my sole focus right now, is Valentina Shevchenko and that's it."
UFC on FOX 23 takes place January 28 at the Pepsi Center in Denver, Colorado.
Comments
comments