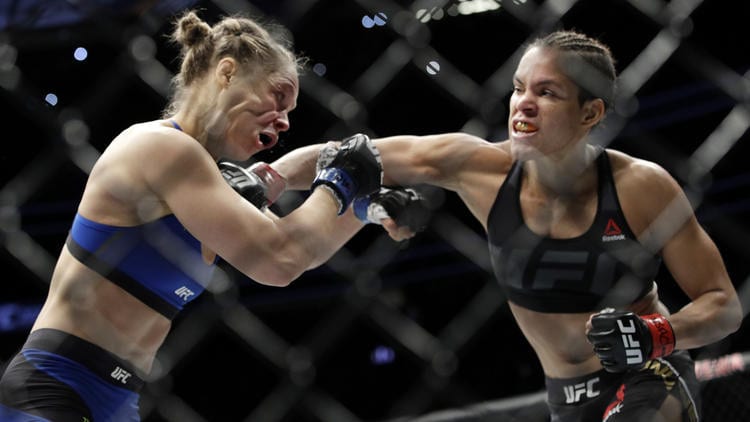 Ronda Rousey has received the support of numerous figures in the sports world since her 48-second loss to Amanda Nunes at UFC 207.
Jon Jones has called for Rousey to "pick herself up and try again" while basketball superstar LeBron James offered advice, saying "in sports, in general, they build you up as high as they can, put you on the highest mountain in the world, just to tear you down. That's coming from somebody who has experienced it."
He added: "I know exactly how she feels because I was that athlete. I went through that."
One person, however, who seems to be bucking this trend is Rousey's own mother.
AnnMaria De Mars, the first ever judo world champion to hail for the United States and the person who ignited Rousey's love of the sport, has called for her daughter to step away from the sport which she dominated up until a year ago.
Speaking to TMZ.com, De Mars said: "I would like her to retire. I would have liked to see her retire a long time ago. Who wants to see their kid get hit? Cause she's got a lot of talent in a lot of other things. Movies, writing, producing, she's really, really smart. I told her that at the beginning when she started this.
"I said you're smart and beautiful — let the stupid people get punched in the face. Sorry stupid people."
When Rousey walked away from the cage following the TKO loss to Amanda Nunes last Friday, she did so in the embrace of her mother. It remains to be seen if Rousey will heed her mother's advice, saying in a statement last weekend that she needs some time to reflect and think about her future.
If it were up to her mother, though, Rousey would never lace up a pair of gloves again.
"I think she's an adult and she can make her own decisions", she said. "If you get in a fight with somebody or you're angry with somebody, that's not the time to make decisions. I think decisions are best made when you're not really emotional and obviously losing something is a real emotional thing."
Whatever Rousey's next step ends up being her place in the UFC hall of fame is assured and the success she has enjoyed in the cage has parlayed into a potential acting career.
Not bad for a fighter who sleeping in her car less than seven years ago.
Comments
comments