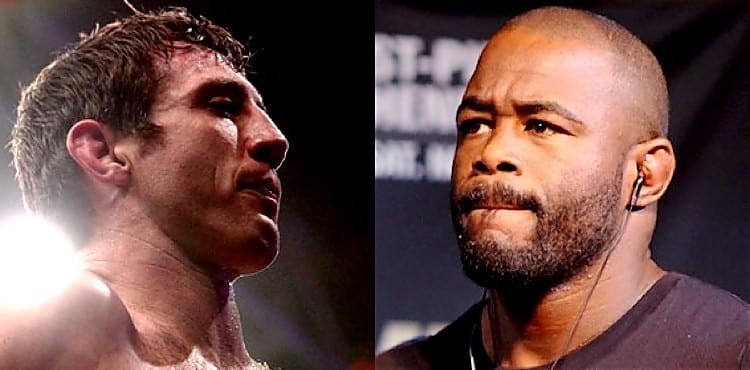 While Rashad Evans and Tim Kennedy may not be able to fight this weekend, they'll be facing off sooner rather than later.
Reports from MMAFighting.com say that the bout, which was meant to take place this weekend at UFC 205 before being cancelled due to an issue with Evans' medical — something the new middleweight said was more due to the strict New York commission rather than genuine health problems.
"I'm healthy, I don't want anyone worrying about me," Evans said to MMAFighting. "I'm fine, physically speaking. Never felt better. It's just the commission and their rules. I guess they have a zero tolerance policy when it comes to this."
@bisping I heard you were going to be in New York are at Madison Square Garden for UFC 205. Feel like trying to redeem a beatdown you got?

— Tim Kennedy (@TimKennedyMMA) November 8, 2016
@nickdiaz209 UFC 205 might need your help. Not sure if you want to come to New York this weekend. I heard somebody needs an opponent…

— Tim Kennedy (@TimKennedyMMA) November 8, 2016
@SpiderAnderson was curious if you had any plans November 12? Want to meet me in New York at Madison Square Garden?

— Tim Kennedy (@TimKennedyMMA) November 8, 2016
While Kennedy made an attempt at finding himself an opponent for the weekend, it appears that the UFC has instead paid both men their show pay for UFC 205 and will attempt to re-book the duo for UFC's return to Canada.
Comments
comments