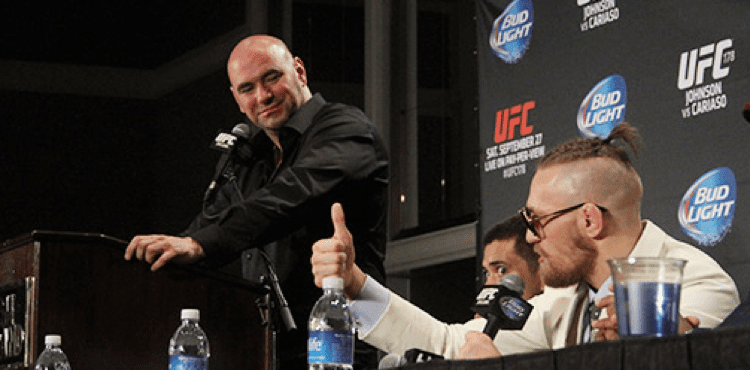 It takes a special person to headline the UFC's debut show in New York.
So, after breaking records all year, it was only natural the promotion went with Conor McGregor. But it's hard to quantify what exactly makes McGregor the big star that he is. For UFC President Dana White, a man well versed in star power, he thinks that unlike Ronda Rousey — who became a star by breaking down barriers — McGregor just has a willingness to dare where others do not.
"What makes Conor so special is[…]every time this guy fights, most people when they get to the level he's at — making the money, the fame and all the other things — they get a little skittish," White said on ESPN SportsCenter. "They don't take the chances and the risks that they took on the way up.
"This guy puts all the chips on the table every time he fights, and believe me I've been around fighters since I was 19 years old. I've never seen anybody like Conor McGregor, and that's what makes him special. Plus tell me the last time you saw a boring Conor McGregor fight? They don't exist. Or press conference, or weigh-in."
Much has been made of McGregor's fame coming into conflict with the UFC's goals. Earlier this year, after a disagreement on promotion in the lead up to UFC 200, many speculated whether McGregor and White were able to overcome any differences. Actually, White says, those people have it all wrong.
"I don't try and corral the lunatic that is Conor McGregor," White said. "I let Conor McGregor be Conor McGregor. You don't mess with that, when you have something that's that great, you step back and you go let him do what he does. This is who he is, this is what he does.
"He's not as difficult to deal with behind the scenes as people might think, and there's a lot of misconceptions about our relationship. I have a good relationship with Conor."
Comments
comments