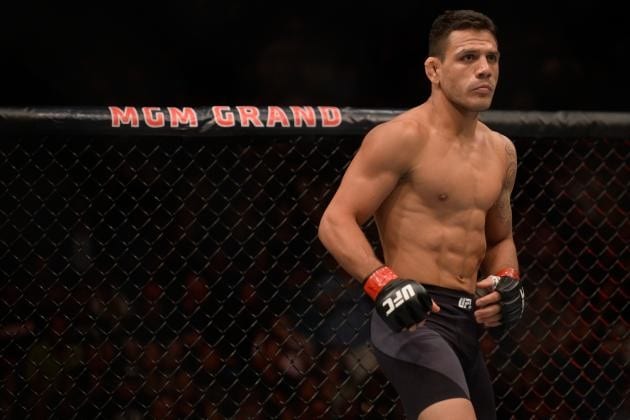 2016 was a rough year for Rafael Dos Anjos. Not only did the Brazilian miss out on what would have likely been the biggest payday of his career by withdrawing from a championship fight against Conor McGregor, he also went on to lose his title to Eddie Alvarez, and then lose to fellow contender Tony Ferguson.
With the past twelve months in mind, the former lightweight champion has announced his intention to move up in weight, and from now on will fight in the 170-pound division of welterweight.
"I've already reached what I had to achieve at lightweight," Dos Anjos said speaking with Brazilian media outlet Combate. "In addition, it has been very difficult to beat the weight. Between 2014 and 2015 I fought five times and after that, in this race for the belt, my body changed a little. In the fight against Donald Cerrone when [I] defended [my] belt for the first time since I felt my different body. Against Eddie Alvarez was even worse and in the fight with Tony Ferguson was already much more difficult.
I reached the top of LW,it's been a hard journey make weight every time,now I want to fight at my best,I have new goals, I'm moving to WW

— Rafael dos Anjos (@RdosAnjosMMA) January 6, 2017
"So I decided to start this year of 2017 with new challenges and I think I will fight happier in that category because there are almost seven pounds less to lose."
It's not the first time Dos Anjos' ability to make 155-pounds has been discussed. UFC commentator Joe Rogan revealed last year that Dos Anjos had actually slipped unconscious for three minutes ahead of his fight with Eddie Alvarez due to the drastic weight cutting he'd been forced to do.
RDA passed out & unresponsive for 3 minutes before fight with Eddie Alvarez pic.twitter.com/l2QAvYnasH

— Zombie Prophet (@ZPGIFs) November 15, 2016
While no bout has been announced to mark Dos Anjos change of scenery, it'll be interesting to see how he fares against the bigger and taller men of 170.
Comments
comments