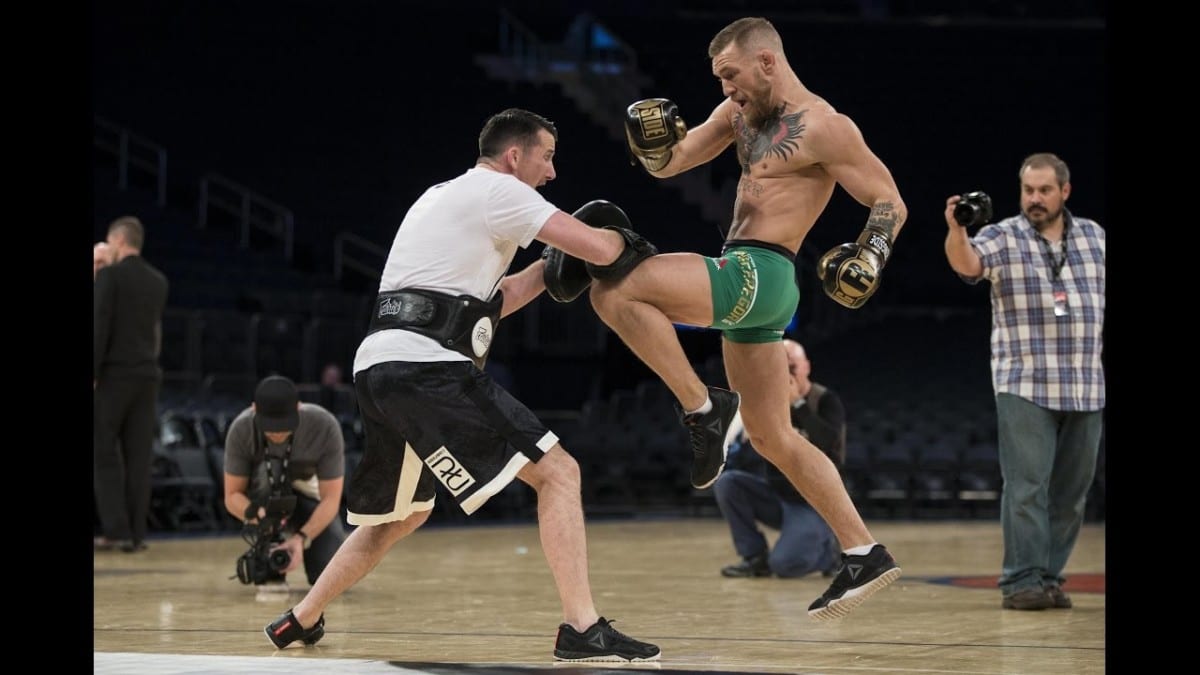 As someone who's been training with him for twelve years, Owen Roddy has an rare insight into the mindset of UFC double champion Conor McGregor. So it's saying something that even he's not exactly sure what's the next move for the SBG star.
Now the belt holder at 145-pounds and 155-pounds, McGregor has more opportunities than most other MMA fighters ever find themselves with. So, when it comes to who might be next, according to Roddy, there is no sure thing.
"Maybe Woodley," Roddy said, speaking on The MMA Hour. "For me, for him to go up for three belts… maybe Woodley. But [Nate] Diaz again is another great one, because I think for fans they want to see something special again. The Diaz fight is special, the Woodley fight is special."
While there is no doubt the above names would garner serious attention, there's an argument that both aren't necessarily at the front of the queue if the meritocracy of the sport is taken into account. For example, there's a certain Russian who's made a fair amount of noise about facing McGregor. Noise that Roddy doesn't deny has ground.
"You can't really doubt Khabib [Nurmagomedov] at this stage now, he's a phenomenal grappler, a phenomenal wrestler," Roddy said. "But I don't know whether the excitement is there. Obviously for Conor, it's about the pay-per-views, it's about the money. Whether Khabib will hit the pay-per-views for him I don't know, but he's definitely there or thereabouts.
"He poses a different threat, it would be good to work out what kind of strikes are going to land on him. He can be hit as well, I will say that. he got hit a bit in his last fight, and the same again, if you give Conor the chance to land once, I don't know whether people can come back from that. But it would definitely be an interesting fight."
Of course, there has been some serious speculation as to if McGregor's next move has to be limited to MMA. Following UFC 205, boxing great Floyd Mayweather and McGregor had some public back and forth through the media, something that renewed interest into the (as yet) hypothetical cross-sport bout.
For Roddy, he may not be convinced it'll ever happen, but it's not like he wouldn't love to see it.
"Why not, like?" he said. "Best boxer in the world against in my opinion the best MMA fighter in the world. It's not the fact that Conor's the best MMA fighter — he knocks everybody out. He hits like a middleweight, like a light heavyweight. He only needs one chance to land, and if he lands once on you, it takes some character to come back from that. On the flip side, it's very difficult to land against Mayweather, so that's the contrast.
"But Conor poses different threats as well, he doesn't box like a traditional boxer, so that could easily give Floyd problems. But you can't take it from Floyd Mayweather. He's the best in the world, he's pound for pound the best boxer."
Yet despite the several names bandied about, McGregor's recent announcement about his incoming fatherhood have suggested that there may be some time away from the cage. Something that UFC President Dana White appeared to confirm in a recent interview, stating that McGregor didn't want the stress of his fighting affect girlfriend Dee Devlin.
Which of course all sounds completely understandable… except of course McGregor is not the most usual of athletes, and has mentioned on more than one occasion how he hates being inactive.
"I don't know," Roddy said about McGregor taking some time off. "Obviously as Dana was saying, Dee gets kinda nervous and very worried when Conor's fighting and her nerves would be gone, and obviously she doesn't need to be under any stress when she's due to have a baby.
"But on the flip side… Conor lives in the gym, and he loves to fight. If he's not fighting, if he doesn't have a fight scheduled, I just pity everybody in the gym that he's sparring with. Because he's going to be taking it out on them, and putting it on them.
"I don't know. Nothing's going to come about until the new year anyway, but who knows. It's hard to say that he will or he won't stay out for that long."
Comments
comments