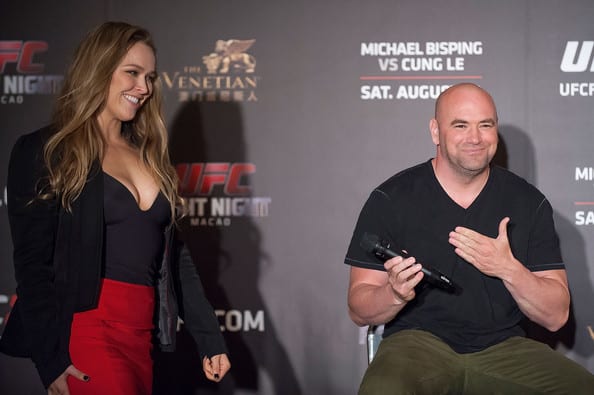 Ronda Rousey's media blackout will continue up to the very night of her return.
The news was confirmed as the UFC 207 media schedules were released, and in an unprecedented move by the UFC, both parties involved in the headlining act will not be participating.
Instead, Wednesday's "Ultimate Media Day" (which is closed to the public) shall feature those involved in the rest of the card, including the likes of bantamweight champion Dominick Cruz, Cody Garbrandt, Cain Velasquez, Fabricio Werdum, and others.
There will be no open workouts, and no pre-fight press conference.
While the decision to keep Rousey from the media isn't necessarily surprising (after all, she made it clear on a rare appearance on Conan O'Brian's show that she feels no obligation to promote her fight), it does raise some questions of UFC promotional tactics, as well as create an interesting precedent.
It's a stark contrast, for instance, to the debacle this summer.
When Conor McGregor and Nate Diaz had their rematch booked for UFC 200, McGregor — who has by far and away become the biggest star in Rousey's absence — asked the UFC to allow him to skip a press-conference in Las Vegas in order for him to prepare properly and avenge his loss. Instead, McGregor offered, he would prefer to take a much shorter flight and have his training far less disrupted by attending a press-conference in New York.
The UFC opted to instead pull the fight from the historic card, even going as far as to hold the press-conference with Nate Diaz in attendance and an empty chair opposite, as if to emphasise that this was not their decision.
It seems odd then, that they find no problems with giving Ronda a completely free pass from media for an event that already looks as if it could struggle with pay-per-view buys (being held on a Friday always correlates to less success, particularly before New Years Eve).
It certainly seems a different tone struck than the recent logic of applying interim titles as often possible in order to create a minute amount of extra interest.
But the real questions here are to be asked of the woman not taking questions.
Rousey's anti-media stance appears to come from one of two places. The first being that she has learned from her past mistakes. Last December, in the days leading up to UFC 193, there is no doubt that Rousey's prolific media appearances begun to affect her. It seemed clear that she was beginning to burn the candle at both ends, and as the weigh-ins arrived, the pressure appeared to be heavy.
She clearly doesn't intend to have her performance in anyway hindered again.
The other cause of her 'no-media' attitude, is resentment.
When Rousey stood atop her division, she was frequently highlighted as being a once in a lifetime, superstar of unspeakable talents. The media attention she received was almost entirely favourable, and to be fair, largely deserved.
But when she lost her title to Holm, the attention was larger and more intense than the victories previous. The striking manner of her defeat, combined with the sudden change in fortunes for a woman who was destroying all competition with ease, leant itself to be highlighted again and again.
According to UFC President Dana White, she felt attacked.
"Ronda is so competitive. Who likes to lose? Nobody does, but she's on the next level. I think she just wanted time," White said on Fox earlier this year. "She had issues. Her biggest issues, in my opinion, were with the media.
"She just felt like the media completely turned on her when she lost. She felt attacked. She felt like these people in the media, that she gave three years of her life, cruising around, giving interviews to, completely turned on her when she lost."
And yet, Rousey's new found dislike for the media seems harsh, and a far cry from the woman who was presented as a strong heroine who cared about nobody. Plenty of fighters have lost, and few have felt a victim of the press. But having said all that, perhaps this is the right move for her and in a time when a loss would likely signal the end of her (fighting) career, it's clearly the avenue she feels she needs to take.
But should she lose, the UFC have made a promotional decision that has left them with a less than stellar pay-per-view return, a burnt out superstar and a champion who few in the mainstream are aware of.
The fact is that with no opportunities to ask them, there have never been more questions.
Comments
comments