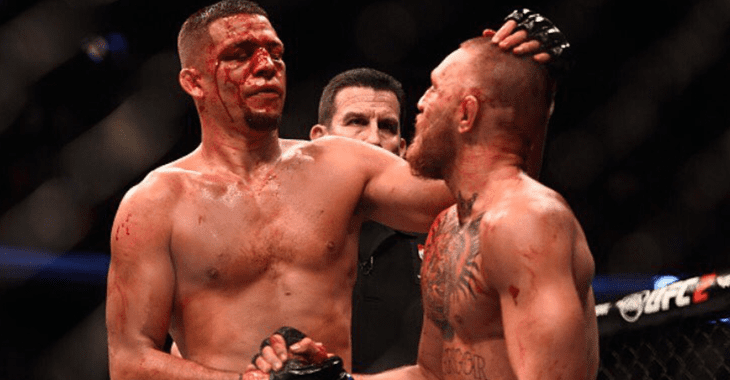 Now that 2016 is nearly over, and it's time for reflection. Looking back, it's been quite the year for MMA; legalisation, repeated broken records, a sale for $4 billion… there's a lot to digest. As such, leading up to Christmas, TheMacLife.com will be revisiting the twelve biggest stories (good and bad) from the past twelve months.
While there are conversations to be had and points to be debated over various awards going out to fighters, the rivalry of the year can surely only be headed in one direction.
When (then champion) Rafael Dos Anjos pulled out of his lightweight title fight with McGregor at UFC 196, the UFC were forced to look for a last minute replacement. After a few names were contacted, they ended up with Nate Diaz.
What followed was one of the best lead ups you could ever have in under twelve days. An impromptu press-conference was held at a gym, and quickly became the most watched in the companies history. As McGregor and Diaz swapped "fuck you's" repeatedly, fans were hooked.
Then, the fight itself was as dramatic as the days prior.
After a dominating first round, McGregor hit a wall in the second, and Diaz capitalised. The unexpected aspect, combined with the sudden turn in fortunes caused fans to explode, and the MMA world felt as if it had gone through something monumental. While Diaz received well earned plaudits for his victory, much of the reaction was negative comments towards McGregor, as long time doubters claimed he had finally been exposed.
Until just a few months later.
McGregor, cited as being "obsessed" by Dana White, created a super camp in preparation for a rematch. Spending a reported $300,000 McGregor made it clear he wanted nothing more than revenge — something only a victory over the Stockton fighter would grant.
The two met at UFC 202, again with a similarly explosive lead up, from which the fight followed suit.
The two men went back and forth for five brutal rounds, with McGregor once again taking the early lead by dropping Diaz three times in rounds one and two. While Diaz returned fire, ending the third with a huge flurry that had McGregor's back to the cage, the questions regarding the Irishman's heart were answered emphatically.
McGregor came back to win the fourth, and eventually the victory. And, while Diaz would bemoan the judges decision, it was clear a semblance of mutual respect was found between the two.
Well. Until they meet again, that is.
Comments
comments