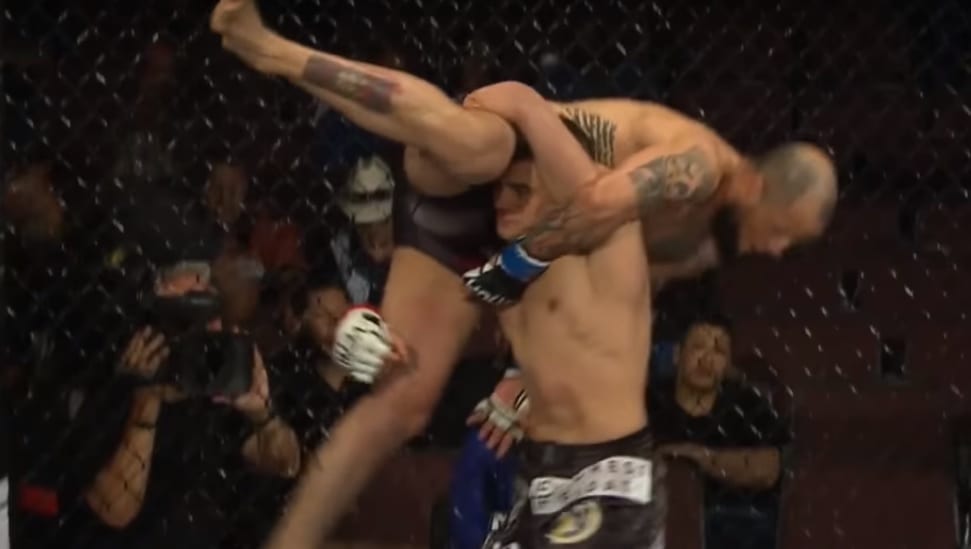 Nick Newell, a congenital amputee who is without the lower section of left arm, returned from a self-imposed three year hiatus last weekend to defeat Sonny Luque in the main event of Legacy Fighting Alliance 35.
Newell took just a little over two minutes to win the fight by neck crank submission in Texas, moving his career ledger to an impressive 14-1. That sole loss came in a World Series of Fighting title bout against current UFC lightweight contender Justin Gaethje in the summer of 2014.
You can watch the finish of the fight below:
It is difficult to use the word 'disability' when referring to Nick Newell. Despite what some might think of as being an unfair playing field, the fact that Newell is an amputee has done little to stifle the manner of which he has cut through the majority of his opponents throughout his now resumed career.
Many, including Newell, are calling for an offer from the UFC to add him to the already shark-infested waters at 155-pounds.
"Life is a cold hard place. It will chew you up and spit you out," Newell said post-fight, as transcribed by MMA Fighting.
"But if you make it your bitch, you can do anything. You can either become a victim of circumstances or you can create your own. I'm out here, I'm creating my own circumstances.
"I'm one of the best fighters in the world and I belong in the UFC. That's it. That's final. I gave you 14 reasons why I belong in the UFC. I'm one of the best fighters in the world and I proved it 14 times."
Body transformation this camp 185lb to whatever I weighed after practice didn't check then 160 on thurs pic.twitter.com/deHMF00XWb

— Nick Newell (@NotoriousNewell) March 4, 2018
Judging by previous comments, Dana White will need some convincing.
"Never, no," White said of one day signing Newell in comments made in 2013. "It's hard to fight here with two arms. It's tough. There's guys that we bring in that are considered top guys on The Ultimate Fighter that don't ever really pan out and make it. Will the state of Nevada let him fight? Will the state of California let him fight? Would some of these bigger athletic commissions let him fight? Maybe he can get away with that in some of these other states. I don't know, fighting with one arm is just craziness to me."
Now, it's worth noting that White's mind can, and has, been changed in the past. The very existence of THREE women's divisions in the UFC currently is testament to that. All it took to reverse the decision was the emergence of a major star in Ronda Rousey and while MMA stars of that magnitude are few and far between, there is no denying that Newell's story is an inspirational one.
And, in a lot of cases at least, that sells a whole bunch of tickets.
Comments
comments