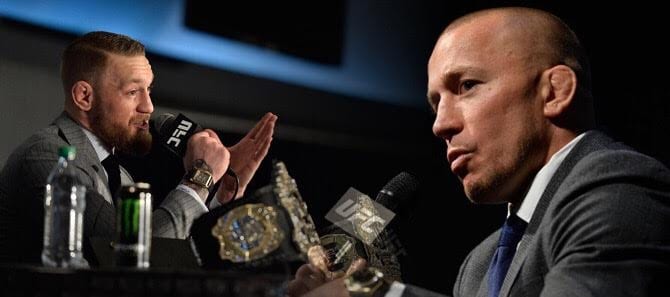 Ever since Georges St-Pierre returned to the sport last year, there has been talks of what a fight between himself and Conor McGregor would look like.
The pair are regarded as two of the biggest stars in mixed martial arts history, particularly in relation to pay-per-view buys. Often, McGregor is considered to be the man who inherited the mantle of PPV king, meaning St-Pierre's comeback could potentially offer a chance to see the two stars go at it.
While St-Pierre himself has shied away from calling for the bout, his coach Firas Zahabi has been far less bashful about wanting to see it.
"Two huge names," Zahabi said, speaking with Fight Hub TV. "I would love the fight to happen. I don't think it's gonna happen. I think the size difference and Conor's gotta defend the belt sooner or later. They can't fight for a middleweight title, that would be considered crazy.
"I think it would just be a megafight that the fans want to see. It would just be a super-megafight that everybody in the world would want to see. I think it would be a bigger fight than Mayweather-McGregor. I think it would be the biggest fight in history and everybody would for sure want to see it. I don't make the fights, but if I did, that would be one I'd make."
Naturally, Zahabi believes the fight favours the larger St-Pierre, but as a longtime admirer of McGregor's abilities, knows he'd have to keep his charge from getting clipped by the Irishman's infamous left hand.
"Listen, Georges is fully aware of the karate stuff and Taekwondo ranges and the distances McGregor uses. He grew up in that. McGregor's very good at keeping that distance and when you cross the distance, he punches you. Georges understands that game so well plus Georges is much more schooled in wrestling and jiu-jitsu, so I've got to put it all on Georges side.
"McGregor has that deadly, accurate left, I'll give him that. He has a better cross than Georges, definitely, but Georges is too smart, too intelligent, too calculated. It's highly unlikely he will get hit with it. Not impossible, just highly unlikely."
Comments
comments