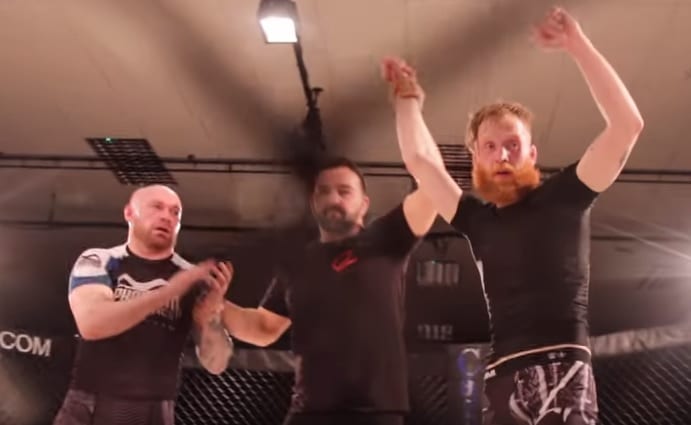 "That feels like a drug," Paddy Holohan says after once again having an opportunity to compete inside of a cage.
'The Hooligan' was forced to retire from his professional mixed martial art career two years ago after a rare blood disorder he was diagnosed with as a child meant that it would have been unlikely for the Dubliner to receive the necessary medial clearance to compete in future. And all this just days out from a scheduled UFC flyweight bout in Rotterdam, The Netherlands.
Since then Holohan has parlayed his career as a full-time fighter into that of a coach, opening up SBG Dublin 24 in his native Tallaght, a suburb of West Dublin. While coaching was something that Holohan has been involved in since the genesis of his own career, the sheer workload of first setting up the facility and then managing and operating it would be considered more than a full time job to most so Holohan, still just 29, hasn't had very many opportunities to scratch his own competitive itch.
Until this past weekend, that is.
On Saturday Holohan faced off with Dave Roche, coach of SBG Tallaght, in a BJJ super fight as part of the Cage Legacy 7 card in Drogheda and speaking to The Mac Life after the contest, he couldn't hide his excitement at once again having the opportunity to stretch his legs in a competitive environment.
"I'm still coming down off it there. It's amazing," Holohan said.
"I need to compete. The last little while, it's just been crazy. I've been opening my gym (SBG Dublin 24), building the thing and everything else in between. It's just been mental [but] I'm going to compete more."
The match opposite Roche came with a pinch of bad blood attached owing to the complicated history Holohan has with SBG Tallaght which ultimately led to the opening of Holohan's SBG Dublin 24. The bout was arranged for charity, with Aobheann's Pink Tie Charity benefiting directly from ticket sales for the event.
"We did it for charity. There no doubt that me and Dave had a bit of animosity between us but that was more, 'Do you know what, I'd just love to strangle you. I'd love to squeeze you just once'. No hatred. It's done now and that's the way it should be done. That's the way most people should do it. That's the manly way, that's the way my granddad taught me to do it."
.
Comments
comments