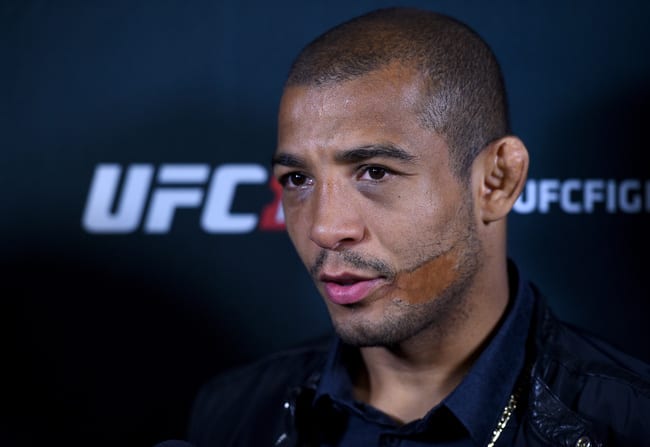 Frankie Edgar rolled the dice at UFC 222 in his bout with short notice replacement Brian Ortega.
The undefeated Ortega has proved to be a conundrum that none of the seven opponents that the Californian has faced in his UFC tenure thus far have proved capable of solving and his first round KO victory against the notoriously durable Edgar. It was the first time that the New Jersey native has been finished in his entire mixed martial arts career and has cleared a path for a title shot of his own at 145-pounds, leapfrogging Edgar in the process.
While most in the sport have justifiably praised Edgar's decision to accept a bout with Ortega when his title shot against current champion Max Holloway, it does add credence to the theory that sometimes it may be best to sit out and wait for the most ideal scenario to present itself — which in this case, would have been to await the return from injury of Holloway.
José Aldo, twice the conqueror of Edgar in UFC title bouts, subscribes to this idea.
"It's a new generation that's coming in Age comes for everyone, and it's normal to have this sort of rotation," Aldo said in an interview with Giro Combate in Brazil, as transcribed by MMA Junkie.
"To me, it wasn't (surprising). I just thought it was a mistake on Edgar's end to fight (Ortega), who's a very tough guy. He would have fought for the title, risked that and lost. Now he's all the way back there again. I think that was his biggest mistake. But I wasn't surprised with the loss. That's part of it. When you go in there, anyone can come out victorious, whether it's via knockout or points, and that's part of fighting."
Aldo, the longest reigning featherweight champion in UFC history, hasn't yet given up on his goal of once again winning the promotion's 145-pound belt despite suffering knockout losses to Holloway in his last two bouts and has targeted a bout with the in-form Jeremy Stephens in Brazil in May as his return to competition and is keeping a keen eye on the summit of a division which will be provided clarity when Ortega and Holloway meet to determine the championship sometime later this year.
"It's a very even fight, I think," Aldo said of the Holloway vs. Ortega title bout. "Both have very similar reaches. In the striking department, too, I don't see any of them as a specialist. The one specialty I see is Ortega's guillotine, which is very strong.
"But Max won't take him down. He'll stand. So the fight will be decided on the feet."
Comments
comments