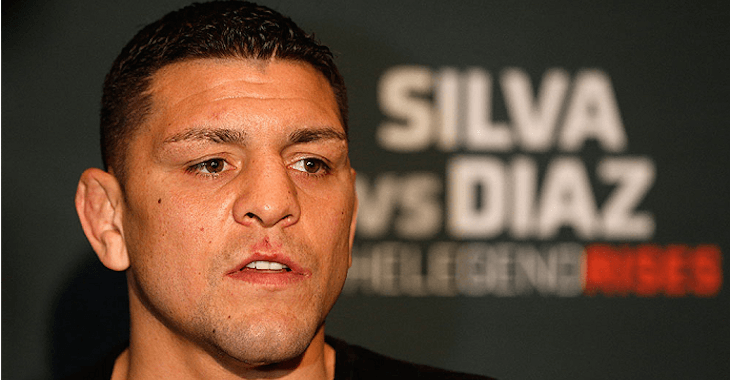 You can go ahead chalk this up as one of the more 'out there' call outs in recent times. Nick Diaz, who has fought at welterweight and middleweight wants to face UFC heavyweight and light heavyweight champion Daniel Cormier.
In a long post to his Instagram yesterday, Diaz slammed new champion Cormier for his interaction with Brock Lesnar last Saturday night, claiming the entire altercation was too 'WWF' (the former name of professional wrestling company WWE).
"Sick of this all this "baddest man on the planet" bs," Diaz wrote. "I'll fight for any title at Any weight. @Ufc wants to make bs wwf fights with guys that fight like shit and put on an act. @dc_mma would look way worse than I do in this pic if he fought Anderson the way I did but instead he decided to wrestle fuck him for five rounds in front of his whole life And still almost got finished off in the last round with Silva only having two or three weeks notice.
"@danawhite should give me this fight instead of dick chest Brock Lesnar's cheating ass. #dontbescaredhomie nothing personal I love Dc but I don't like what he does-constantly embarrassed for him and the sport. I started doing MMA because it's not WWF and I've never put on A bs act in my life I'm sure fans would like to see a real fight."
It's the first indication in quite some time that the older Diaz brother is interested in a return to fighting. For a number of reasons, however, it seems largely implausible.
Diaz is currently facing three felony charges and a misdemeanour for his alleged assault of woman. The charges consist of felony battery constituting domestic violence by strangulation, felony battery domestic violence resulting in substantial bodily harm and domestic battery by strangulation. He is also charged with misdemeanor domestic battery.
His next court date is set for July 31.
Comments
comments