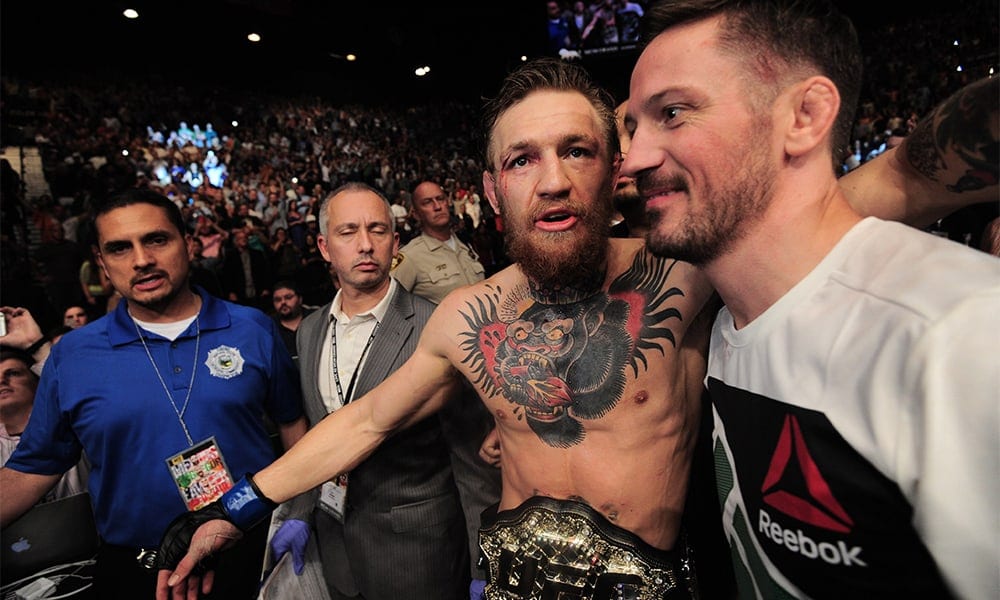 SBG Ireland head coach John Kavanagh is one of the foremost minds when it comes to the development and practical application of martial arts, particularly in a modern setting.
The sport of mixed martial arts has gone through several changes of identity since it was popularised by the first ever UFC event in Denver in 1993. In its halcyon days, the sport was largely the playground of the grappler. Royce Gracie and the Gracie Jiu Jitsu system proved to be the most robust fighting style early on, scything through the challenge of the other martial arts it was tested against.
The sport and its competitors would adapt, however. Masterful collegiate wrestlers like Mark Coleman and Mark Kerr would develop techniques to nullify BJJ experts on the ground, before world class kickboxers would develop the necessary takedown defense to allow themselves opportunities to, in the case of Maurice Smith and Mark Coleman, kick the wrestler in the mouth until he fell to the canvas, his consciousness temporarily removed.
However, in an interview with Robin Black as part of the Canadian analyst's live show in Dublin on Friday night, John Kavanagh says that wrestling is still the most fundamental building block for mixed martial arts.
"It's hard to argue that wrestling's not the core sport for MMA. Which is older, wrestling or taekwondo?" Kavanagh said. "Taekwondo's a generation old, yet we call that a traditional martial art. Wrestling is THE traditional martial art. So are traditional martial arts dying? Not at all. They're actually just coming back. Modern martial arts might be on the way out."
Prompted by a question from the audience, Kavanagh also revealed that Conor McGregor's second fight with Nate Diaz is his favourite combat snapshot ever.
"Nate Diaz is my favourite fight, by the way," he said. "If I could pick a fight for the next one it would be that trilogy. I realise it's not the fan-favourite. The fan-favourite without a close second is the Khabib fight. But for me, it's the Nate Diaz rematch."
"He had already lost to him, it's a bigger guy, Conor's skill-set is shutting people's consciousness off and he's impossible – a freaking Homer Simpson head, he just keeps moving forward. I've seen Conor fight a lot of people that he's able to walk through and that's great, it's fine. It doesn't really excite me that much, to be honest. But that fight…"
Comments
comments