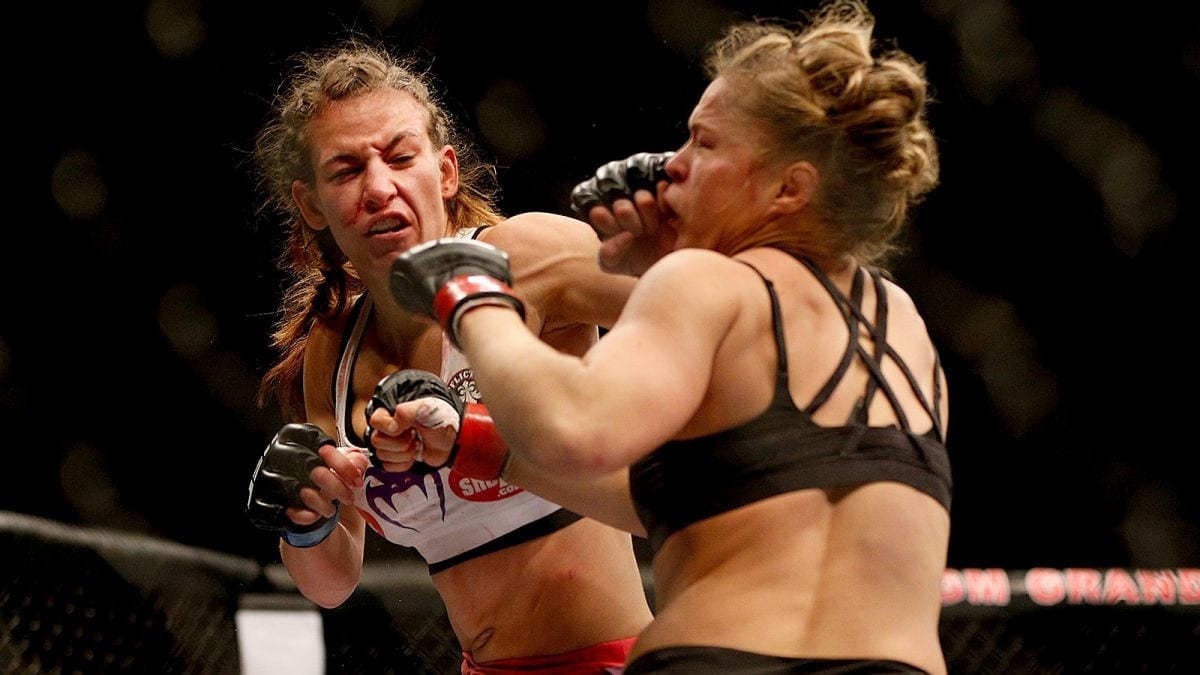 In the history of women's mixed martial arts, there are perhaps no names as intertwined as Ronda Rousey and Miesha Tate.
For years Rousey and Tate were the two biggest names in women's MMA, facing each other twice inside the cage. Rousey was the victor on both occasions and a third match between the two would have been set up for UFC 207 had Tate managed to successfully defend her women's 135-pound title against Amanda Nunes last July.
But it wasn't to be.
The notoriously difficult to beat Tate was summarily dethroned by Amanda Nunes in the main event of UFC 200 and the three or so minutes that Tate spent in the cage with the Brazilian makes Tate think that Rousey might be biting off more than she can chew as she enters the cage for the first time in 13 months.
Rousey has undergone a media blackout ahead of UFC 207, restricting her promotions to almost nothing ahead of her challenge to Nunes' title and this has led Tate to question Rousey's motivation.
"It makes you wonder where her head is at", Tate said on Fox Sports. "Is she laser-focused, or is she struggling? Does she really want to be there? I kinda feel that you don't want to forget what got you where you're at, and that's the media covering her.
"Now she's refusing to do any of it. Where is her head at? What is this girl thinking?
"This is a huge fight and I think that both of them should be doing the media and be accessible a little bit. I do understand. I sympathise; it's fight week but everyone has to do it. There's never been any exceptions.
"It's what makes me think that maybe she doesn't want to be doing this. She said, 'Look, I'll do it under one condition: I do it my way.' I just feel like she doesn't want to be here doing this right now."
And, as Tate says, stepping into the cage with Amanda Nunes isn't exactly easing her back into competition.
"I had never been hit that hard in my life", Tate said speaking of her defeat to Amanda Nunes at UFC 200. "She packs one heck of a punch. It's only going to take one of those to land clean and I think it's going to ring Ronda's bell. If she can get in that clinch and get it down to the ground, that's Ronda's playground — we all know that. But if she takes one of those on the button, man. I'm telling you, it's going to be a game-changer.
"If she really wanted to continue fighting she would have been back in there sooner. Really competitive people, when they lose they just want to get back in there and do it again. I'm not saying that's always the wisest decision, but I can say that's what I see typically from people who want to fight.
"Her taking a year and some change off says a lot says that she wants to do other things. I don't think that she wants to be in there fighting anymore but I think she's going it as a favour to the UFC."
As for how Miesha Tate sees the fight going down when the first bell rings?
"Ronda has the ability to finish anybody. She can do it, I'm not counting her out. But I'm just saying, if push comes to shove, I just don't know if her heart's really in it anymore — and Amanda's is."
Comments
comments