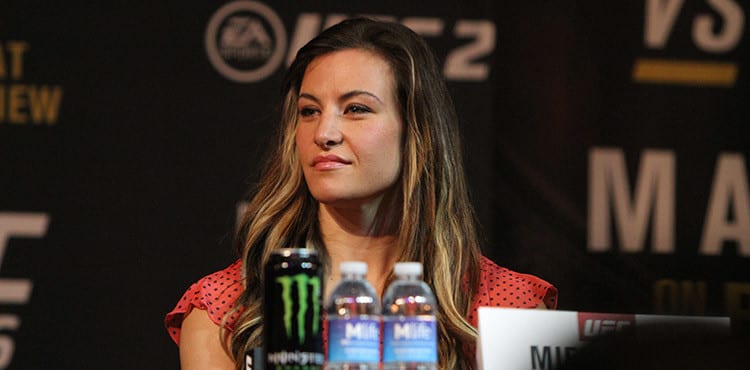 Miesha Tate has said that even a shot at the newly-instated UFC women's featherweight championship won't be enough to sway her decision to step away from the sport.
Tate retired in the cage at UFC 205 last November following a defeat to Raquel Pennington in Madison Square Garden, a decision which she later admitted to making during the fight in the spur of the moment. Tate has since moved away from the sport to work on other elements of her career, including an analyst role with FOX Sports, but the possibility of joining the exclusive club of UFC two division champions doesn't interest her.
Holly Holm and Germaine de Randamie will meet this Saturday in Brooklyn to determine the inaugural women's 145-pound titleholder and given that Holm, who bookmakers have as favourite to win, was defeated by Tate last year in a match which crowned 'Cupcake' as the women's bantamweight champion some commentators suggested that Tate might be persuaded to rematch Holm should she win at UFC 208 this weekend.
Tate, though, remains steadfast in her retirement, as reported by MMAFighting.com.
"At this point, it's not even on the radar, so I can't say that will probably happen, because I don't think that it will", Tate said of challenging for the women's featherweight title.
"I'm really happy in the retirement, honestly. I've just been really enjoying myself and figuring out a little bit more about who I am beyond Miesha the fighter. It's been a very interesting process, so I'm really enjoying that. I don't have any plans to come back, or even any desire to.
"So unless that drastically changes, I don't see myself going back in there. It's an all-or-none sport. It's got to be 110 percent, or not at all for me. So unless something makes me want to get back in there like a crazy person, I won't be."
Comments
comments