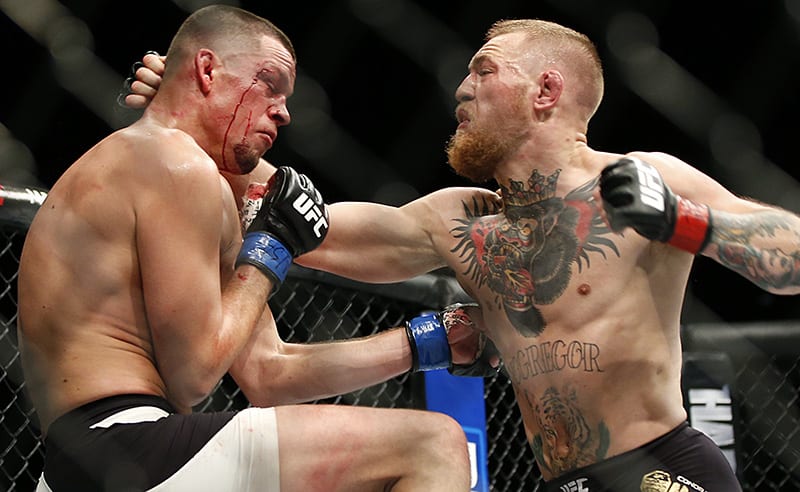 It is all but confirmed that Jon Jones will challenge the winner of the upcoming Daniel Cormier vs. Anthony Johnson light heavyweight title fight slated to headline April's UFC 210 when he returns from suspension this summer.
A second grudge match between Cormier and Jones is among the biggest fights that can currently be made in the UFC (as would a clash between Johnson and Jones should 'Rumble' dethrone DC in April) and it would be difficult to imagine either of those fights taking place anywhere on a UFC fight card other than the main event.
UFC president Dana White, however, may have other ideas. Following Jones' recent outside-of-the-cage incidents which have delayed his career, White has gone on record as saying that he doesn't have confidence in Jones' dependability to a headline a UFC event.
"I'm starting to not become optimistic about what's next for Jon Jones," White said on ESPN SportsCenter. "I think Jon has a lot to prove to me, to the fans, and definitely to himself. He's proved everything in the Octagon. This kid could have been one of the greatest ever. I mean, I believe he's the greatest talent we've ever seen.
"But in being a great talent, it has to be great in the Octagon and outside of the Octagon. And he has failed miserably. I don't know if I have the confidence in him to headline an event with him again, because it costs millions of dollars. We put millions of dollars into the advertising and all the promotion. And I don't have the confidence in him to headline a card these days."
Daniel Cormier, one of the biggest stars in the sport, appeared on Ariel Helwani's The MMA Hour on Monday where he offered his thoughts on whether him vs. Jones should headline a card — and said that there's only one fighter on the roster who he would happily play second fiddle to.
Guess who?
"Jon and I will not fight in a co-main event to anyone other than Conor McGregor", Cormier said to Helwani.
McGregor's status as the biggest name in mixed martial arts was cemented last November when he became the first person to hold two title belts simultaneously in the UFC when he defeated Eddie Alvarez in the second round at UFC 205 in New York in a fight that shattered the all-time gate record for Madison Square Garden.
The term 'Red Panty Night' has become part of MMA parlance since McGregor uttered it at the 'Go Big' press conference in September 2015. Beneath the line, though, lies some truth — if you're a fighter looking to make some extra bank, you try to get yourself on a McGregor card and it is revealing to see Cormier, holder of what was traditionally seen as the UFC's marquee title belt, saying that if he is to be in the co-main event it is prior to a McGregor fight or not at all.
Nate Diaz, who faced McGregor in their thrilling bout at UFC 202 last August, received a disclosed $2 million (prior to PPV points) for his night's work and has said that he will only return to the UFC for a third bout with the Irishman. The UFC have been attempting to pair Diaz with Eddie Alvarez for an upcoming event — those Diaz is resisting the organisation's overtures.
Lol at your fight…

— Nathan Diaz (@NateDiaz209) February 4, 2017
For both of their fights in 2016, Nate Diaz received a total sum of over $2.5 million and now it looks as though he is holding out for a similar payday to make the Alvarez fight happen. But does this overlook the simple fact that there's a price for facing McGregor and then a price for facing everyone else?
That is the Red Panty Night in a nutshell.
Comments
comments