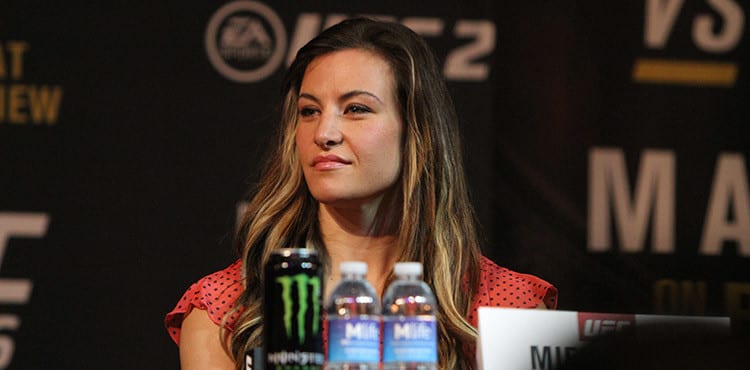 No matter how much trouble he finds himself in, Jon Jones' ability inside the cage means the former UFC light heavyweight champion will always have a group of fans who want to see him compete.
But, after his appearance in front of the California State Athletic Commission yesterday, a large number are losing faith. Case in point, former UFC bantamweight champion Miesha Tate. Seemingly unconvinced by Jones' statements in regards to his most recent test failure, Tate revealed she was no longer invested in the story of the former champion, and if he'll ever compete in the cage again.
"The thing is, I don't really care at this point if he comes back because I've lost the motivation and the interest, and the faith that I have in Jon Jones has been lost," Tate said, speaking on MMA on Sirius XM. "Now maybe in three, four years, if he gets a great suspension, if he gets the book thrown at him and he really does make those changes, maybe he has a chance at restoring that, but at this point I just don't care anymore. I don't care. I'm over Jon Jones. I'm done with it.
"I don't want to hear his sob story. I felt sorry for the first, second time he kind of had me. But it's like, fool me once, shame on you; fool me twice, shame on me. Fool me three times, I mean, come on. Am I waiting for a fourth now? I just don't — I'm over it."
""I don't really care at this point if he comes back"@MieshaTate explains to @RJcliffordMMA why she has no desire to see Jon Jones return to MMA anytime soon. pic.twitter.com/gCyq3N0mbB

— MMA on SiriusXM (@MMAonSiriusXM) February 28, 2018
While she did concede that in the future, a consistent run of activity without any trouble might win her around, Tate said she's not waiting to see if Jones can finally avoid drama.
"I wish and I hope that it does change Jon Jones, but I'm also not invested in Jon Jones anymore," she said. "I guess it's what it is. I'm kind of checked out at this point. It's just been too many times, too many instances. And I've heard this story one, two, three, four, five times already, so unless he shows me something different than just saying 'I'm a changed man,' he's got to do a lot more to gain me back as a fan and to care to see him compete again. I just don't want to be let down again."
Comments
comments