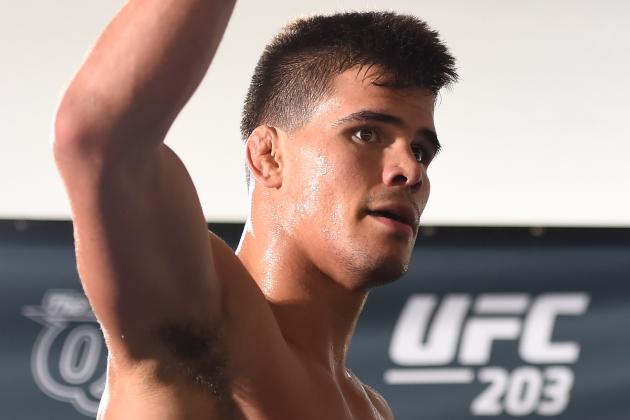 For a fighter with two fights in the UFC, Mickey Gall seems to have this 'talking' thing under control.
Following his dominant victory over former professional wrestler CM Punk, Gall took his chance on the microphone to immediately create interest in his next appearance, namely by calling out fellow "Looking for a fight" alumnus Sage Northcutt.
Now, with the two set to face each other on December 17, Gall has upped the anti by declaring the damage he'll cause on  'Super Sage' to have lasting repercussions.
"I'm gonna do a lot to him, I don't see this one being one round," Gall said. "I see this being longer than that and I'm gonna break his bones. I'm gonna hurt him bad. I'm gonna bust him up, I'm gonna break his bones, I'm gonna tear things. I'm gonna put a beating on him."
"His boxing sucks. His ground game is pretty bad. So there's holes on both sides. I know how I'm gonna fight him. It's gonna be bad for him. He's gonna feel like crap. He's gonna feel real crappy in there."
Gall had also drawn attention to the bout for his attempts to introduce an extra stipulation to the affair, namely having both of the youngsters agreeing to shave their head with a loss.
Yo Super Scared Corncutt, How bout a bet: Loser shaves their head? Stop takin selfies & take antibiotics. I'm gonna hurt u @sagenorthcutt 🌽😂 https://t.co/Q81gHrv249

— Mickey Gall (@mickeygall) September 21, 2016
"Heck yeah, why not? I put it out there," Gall said of the hair vs. hair idea. "I didn't hear anything from him but hey, if I lose I'll cut my hair, but I ain't losing. I am not losing. You can see a bald blond boy."
With Gall being 24 years old to Northcutt's 20, it's likely that should both men reach their potential, they'll be seeing plenty more of each other down the line.
Comments
comments