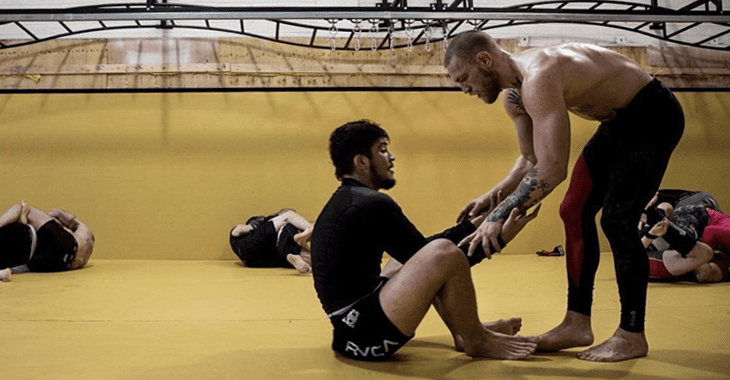 When world class Brazilian Jiu Jitsu black belt Dillon Danis got the call to travel to Ireland to help Conor McGregor prepare for his second fight with Nate Diaz earlier this year, few outsiders could have predicted the bond that was about to form.
Few people, that is, except for Danis himself.
What began initially as a working relationship between Danis and McGregor has blossomed into something much more than that. Both athletes share the same fighting philosophies and it is these common principles, Danis says, which has led to their relationship feeling more like brothers than training partners.
"I'm here for him", Danis says. "We help each other. I wouldn't say I'm just helping him because he also helps me a lot. My mind – everything. We're a good tag-team, I think. He's my brother from Ireland. I have my brothers back home in New York and now I have my brothers here too".
"Coming in obviously I had watched Conor and I knew his mind-set and mine was similar so I figured we could click because we have a lot of the same ideas and the same thoughts. I really knew it would be a good connection, but it ended up being super-cool. It all stems from hard work and being on the same mind-set, on that same goal of being the best. It's just like anything. You want to be around people that have the same goal".
Whereas McGregor has his own date with destiny set for New York next month, Danis has just conquered his very own battle in the Big Apple. Just days ago he won double gold in the No Gi Pan Ams in the medium heavyweight and absolute divisions, finishing every opponent by submission with the exception of Murilo Santana ("A legend, I've looked up to him since I was a young kid").
Among the many common principles shared by both Danis and McGregor is the "there is no opponent" philosophy – a mantra which McGregor has held close since even before his time in the UFC. Danis says that this way of thinking was drilled into him by his coach Marcelo Garcia, one of the most renowned BJJ black belts of all time.
"My coach always emphasises not worrying about the other person. I think sometimes when you worry about the other person, you forget to do your game. I'm always going forward and being aggressive. Fuck whatever they're doing".
As with so many people at the top of the jiu jitsu food chain, the presumed eventual destination for their skillsets is mixed martial arts. While Danis says that him moving to MMA is "definitely inevitable", he's in no rush just yet. He has many goals left to achieve in the jiu jitsu world first, chief of which being a victory in the Black Belt World Championships in the Gi – an accolade that the New Jersey native feels is within touching distance.
One thing that Danis says won't be happening, however, is an MMA contest with Northern Irish fighter Joe McColgan who has been campaigning for a fight with Danis on social media.
"I'd play with that kid. He doesn't know what he's talking about. I haven't seen anything about it but people at the gym told me. He's a bum – not even close to my level. I'm trying to aim for bigger things. I'm at the top of the game in jiu jitsu. I'm going to take over jiu jitsu and then go over to MMA. If I go to MMA, it's going to be a big fight".
And having conquered New York earlier this month, how does Danis see his brother Conor McGregor faring against Eddie Alvarez at UFC 205?
"Conor is going to knock him out cold", Danis predicts. "As John Kavanagh would say, Conor could knock someone out in a phone booth so if Eddie tries to get close he's going to get lit up. We're ready for everything".
Comments
comments