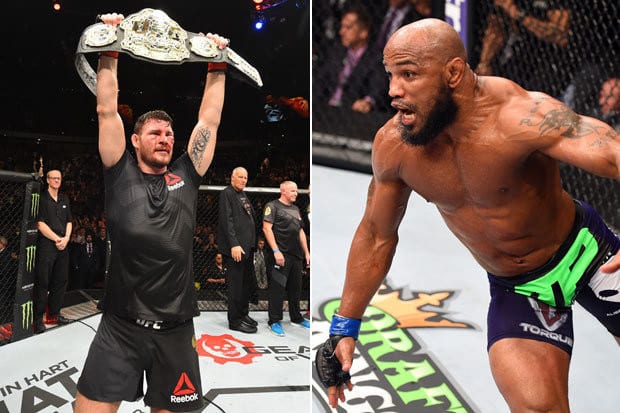 It was only moments after his vicious knockout win over Chris Weidman, that Yoel Romero was informed by UFC commentator Joe Rogan he had received the shot to face middleweight champion Michael Bisping.
The Cuban then took to the microphone and engaged in an (admittedly odd) back and forth with with the champion, telling him "I love you, Michael!" while the Brit stood laughing with his middle finger raised.
While Bisping had previously said he had no intention of facing Romero should he defeat Weidman, it seems now he has changed his tune.
"Listen, I always say 'I've never ducked anyone in my life' and I never will," Bisping said on his SiriusXM show. "So a couple of days ago, Dana [White] calls me up and is like 'Mike, January 20th, Anaheim, you versus Yoel Romero'. And I said to be honest Dana, I've been getting some injections on my knee. And I'm not saying no to Yoel, because believe or not after beating Weidman like that, I do fancy it.
"I was hoping Weidman would win, I always wanted to fight Weidman. More out of a respect thing really, even though we went back and forth and talked shit, I never really had too much against him. It was more a comedy thing from where I was concerned, but I did want to fight him. That said, Yoel beat him, and I guess in the fight before –even though he tested positive– he beat Jacare."
With that impressive resume, and with Jacare Souza and Luke Rockhold's fellow title shot eliminator cancelled due to a Rockhold injury, Bisping knows there is no other contender than Romero — although it won't be happening as early as January.
"So, yeah, I guess that would be the fight," Bisping continued. "[I told Dana] 'I've had three fights this year, it was only four weeks ago I had a war with Dan Henderson. I want to enjoy Christmas with my family, so January 20th ain't gonna happen.
"I'm not physically or mentally ready to jump into a training camp right now. That fight, that date is 9 weeks away. I would have to start training next week, I would have to be in training camp all through Christmas, my family are coming out for Christmas. I'm planning on having some downtime, I think I've earned that. I've got a couple of injuries that I need to let heal up."
Instead, Bisping is aiming for a couple of months into the new year. It's worth noting that the UFC return to London on March 18, albeit on a Fight Pass card.
"Sometime in Spring, sometime in Spring, 100%," Bisping told White. "Dana said 'Okay let me look at the calendar, see what dates are available, what locations and I'll get back to you'.
"Unless something else transpires, or some other situation, it's looking like it's me versus Yoel sometime in the Spring."
Comments
comments