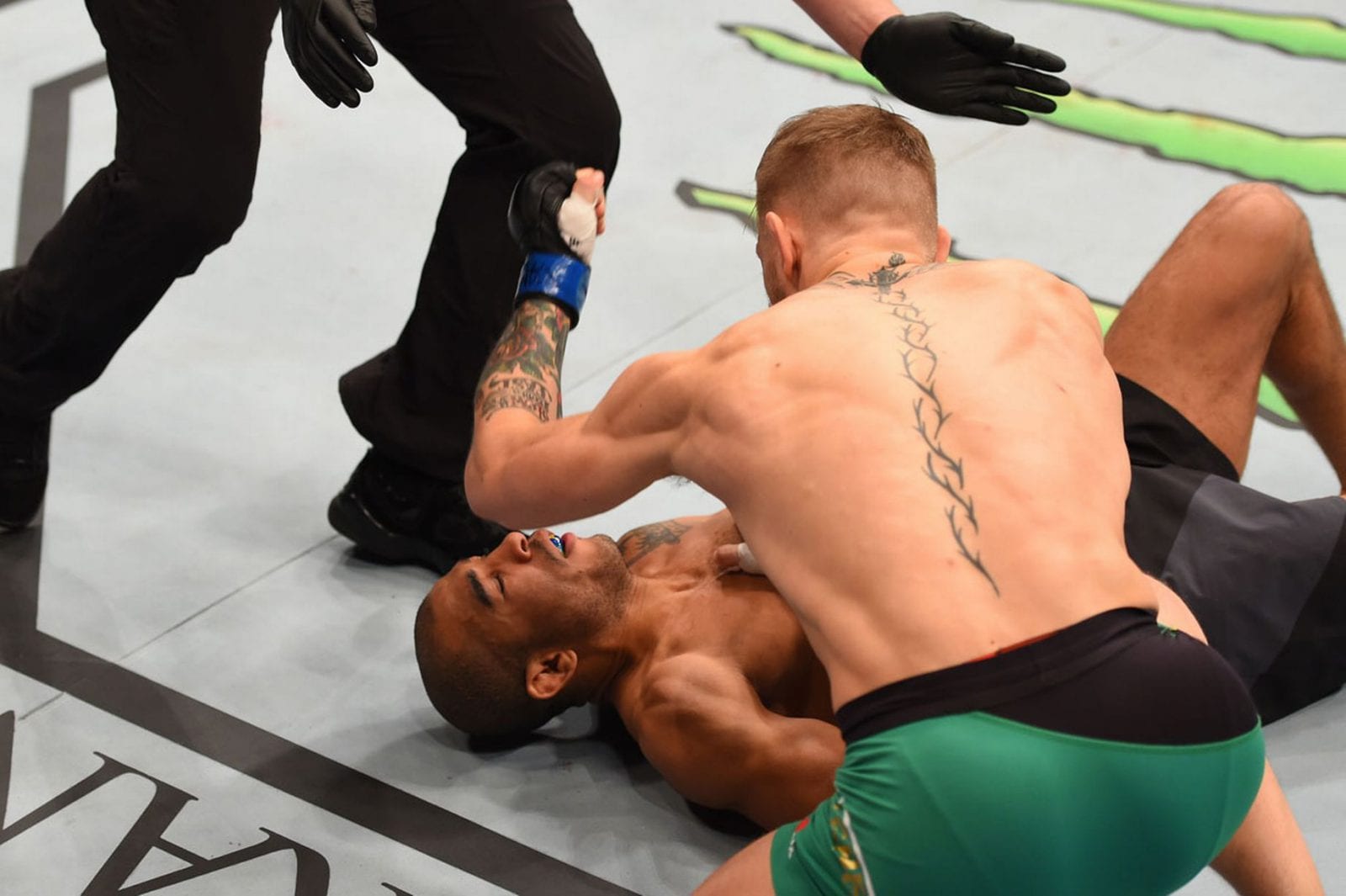 After UFC 200, everyone felt that a rematch between Conor McGregor and Jose Aldo for the UFC featherweight title was almost a certainty.
But just a day after UFC President Dana White said that Conor McGregor would be back at featherweight following his UFC 202 bout with Nate Diaz, the UFC featherweight champion seemed to pour cold water on the idea and was non committal at best when discussing a potential McGregor-Aldo II bout.
"We'll see," McGregor said. "We'll see. There's a lot to still happen yet. I'm gonna go in here, face this man, do what I know I can do and put him away and then we'll talk. But we'll see."
McGregor was also asked if that fight would, as some have speculated, take place at the UFC's inaugural event at Madison Square Garden in New York. While it's certainly something the champion would like to do, he was hesitant to make any statements on the next fights location.
"There's a lot going on in the background, there's a lot happening," McGregor said. "There's a lot of options available so I'm just trying to stay focused on the task at hand. I certainly want to fight closer to home. I've fought so many times. I'm very, very active as you know, I fight out here in Las Vegas and it's a long trip from Ireland, so New York is obviously closer, there's a lot of Irish in New York. I would like to fight there and I think I've earned a chance to fight in my home town also, you know? These are things I wanna do.
"Right now, here I am, a couple days out from the big one. I'll think about who's next and what's next and all those other guys talking shit after the fight."
McGregor also noted that there was no reason to believe the various featherweights claiming he wouldn't return to the division to defend his world title.
"Right now, I don't see anyone on my level," McGregor said. "I'm having a hard time deciding who's next after this one. So we'll see. We'll let things play out and then we'll figure it out.
"They're praying I don't come back. Tell me one time I missed weight? I even made championship weight when I wasn't supposed to, when there was no championship on the line. They're praying I don't come back. I've beaten everybody in the division.
"If Frankie had of won that last fight after all the shit he was talking and his team was talking, it would have been set in stone, [I'd have gone back to featherweight] and shut that man up, but he got slapped around that fight. He couldn't do nothing, against a guy I KO'd in one shot. So, I just got to see it out. See what happens after this fight.
"But I'm the featherweight world champion, I mean the guy I KO'd in 13 seconds is holding the interim. What does that tell you? I'm leaps and bounds ahead of that division. I'm the world champion, of course I'll defend it at some point in the future. But we'll see what happens after this fight."
Comments
comments