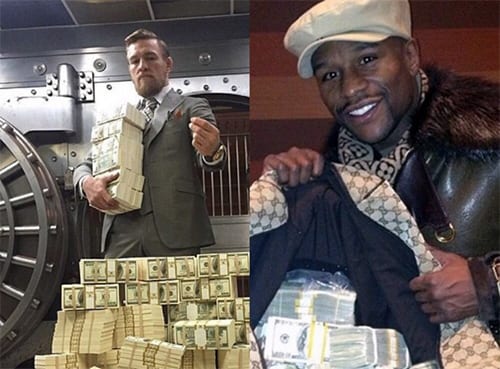 Conor vs. Floyd. MMA vs. Boxing. Sure it could happen, according to McGregor, it's all down to the paycheque.
The hypothetical mega-bout between boxing star Floyd Mayweather and Conor McGregor first garnered attention earlier this year after Mayweather declared the two were going to meet in a boxing fight. The announcement was met with skepticism, and the idea of a clash between the two seemed far and away.
In the eyes of UFC Featherweight champion Conor McGregor though, there's nothing farfetched about the idea. He just has a price tag that needs to be met first.
"Right now, I have Floyd running around the Showtime offices gathering my money," McGregor said at a media day ahead of his bout at UFC 202. "That's what he's doing. He's running around the Showtime offices, begging those executives to come up with the $100 million cash he needs to fight me. As soon as he gets my money, we can fight."
Part of the bouts intrigue has been whether it would take place in an MMA cage or a boxing ring, something McGregor has no problem with either way.
"Look, If you want to fight me, we can fight," McGregor reiterated. "If you need a specific rule set to protect you from a true fight, that's no problem. Just make sure that money is there. As long as that money is there, we can fight under your safe net of rules. With me, I don't need rules. I am the fucking rules.
"I've got the boxing community saying "I can't box", and then I say "okay lets fight," "Oh well you can't kick or elbow or grapple… as long as you can't do that then we'll box your ass up" "okay then".
"And then I've got the grappling community saying "I can't grapple" so I say "okay let's fight" and then the grappling community [say] "oh well you can't box or kick, as long as you can't do that, then we'll grapple your ass up". All these people saying I can't do this or I can't do that, well lets fight then and then all of a sudden rules, you need to bring in rules to protect them. I don't need no rules to protect me, I can fight any way.
"I don't really hold it against [Floyd], I wouldn't wanna come into my world no way. I mean how is he gonna come into my world, he's a novice where I come from. He's a phenomenal boxer, a phenomenal athlete, an intelligent businessman, but he's a novice in true fighting and that's just simple fact. I don't blame him, trying to set rules under the boxing rules. And like I said, I've no problem going over there.
"I would not show up unconfident. I would show up to kill that man and take that win down 100%. Why dominate one world when you can dominate two? We'll see how that plays out.
"Everyone looking for rules, everyone's looking for weight, everyone's looking for cherry-picking opponents," McGregor said. "I'm up here facing a man that has a win over me and hold 30 pounds in weight on me. Look around the fight game. Nobody else is doing this. Nobody fucking else. That's me, that's who I am."
Comments
comments