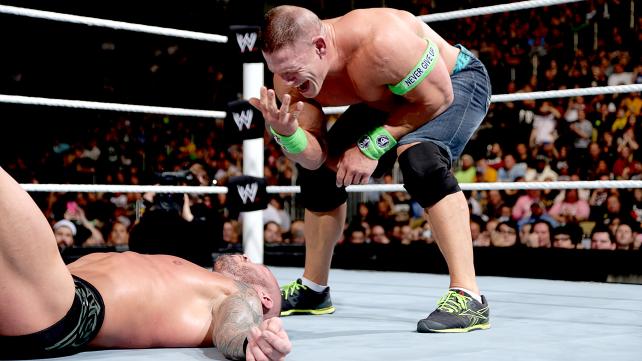 You didn't expect him to back down did you?
Last week, UFC Featherweight champion Conor McGregor made headlines after mocking WWE wrestlers on the UFC 202 media call. When asked if he could see himself ever entering the world of professional wrestling world, McGregor dismissed the WWE as being full of "pussies" before taking to Twitter to proclaim he could defeat the entire WWE roster. Twice on Sundays.
Both the WWE roster and the fans responded angrily to McGregor, with various WWE stars taking to Twitter to either challenge McGregor to a fight or to proclaim he didn't understand how tough the WWE men are.
Today, at a specially held media day, McGregor was asked to expand on those comments and expand he did.
"I think these WWE guys think… They're not right in the head, some of them," said McGregor. "I mean the new age are dweebs. The old school guys are legends. Ric Flair's a legend, the McMahon's of course… Dons. But I just said it as it is. They're dweebs.
"What's the main guy? John Cena," McGregor said. "He's 40. He's 40 years of age. He's walking around in a luminous orange t-shirt and a headband talking about nobody can see him. We can see him right there. He's a big fat, 40-year-old failed Mr. Olympia mother fucker. They're dweebs those guys."
One of the most angry in his initial response to McGregor was WWE star Ric Flair. The wrestling Legend tweeted "Coming from a guy who built a career copying my persona, I expected the type of class we get from Ronda or Anderson" and "After Diaz finishes you again, I dare you to try guys like Dolph, Brock, or Fit. Oh you're welcome for your gimmick."
McGregor took the time to respond directly to Flair, denying any sort of gimmick infringement, as well as making note of a few exceptions who deserve respect… and who doesn't.
"I don't know what to say to Ric Flair," McGregor said. "This ain't no gimmick. This is the real shit. I've gotta get in and fight a man for real. With no script, with no nothing. He was talking about bringing some other wrestler guys out to challenge me. I said come bring it then. This is the real shit over here. You know want to come over, we can fight no problem. And then a few of them are talking about the street and all. If they want to do that, come at me and see what happens.
"Like I said, no disrespect to the dons of the game, the McMahons," McGregor said. "I mean [WWE CEO] Vinny Mac is a fucking legend. They wrote Vinny off a few years ago when he dropped from the billions and then he rose back up and now he's back in the billionaire club. What he's been able to do with that bunch of dweebs he has over there at the moment has been phenomenal and I respect him for that. And then of course the OG's of the game, The Rock, Stone Cold, they're cool mother fuckers. Even Ric Flair is a cool mother fucker.
"I'm just speaking the truth, that new age of those guys are absolute dweebs. They just seem messed up in the head. I don't know what it is. When I listen to them talk, when I listen to them carry themselves, they just don't seem right in the head. That might have been a bit ruthless for me to say, but again, It ain't trash talk, it's truth talk."
In the end, even if nothing ever stems from McGregor's comments, his words still were shared to millions over social media.
"I've got them all wrapped up on my little finger," McGregor said. "The boxing game, the MMA game. Now I've got those wrestling dweebs in here as well. I've got the whole shit locked up."
Comments
comments