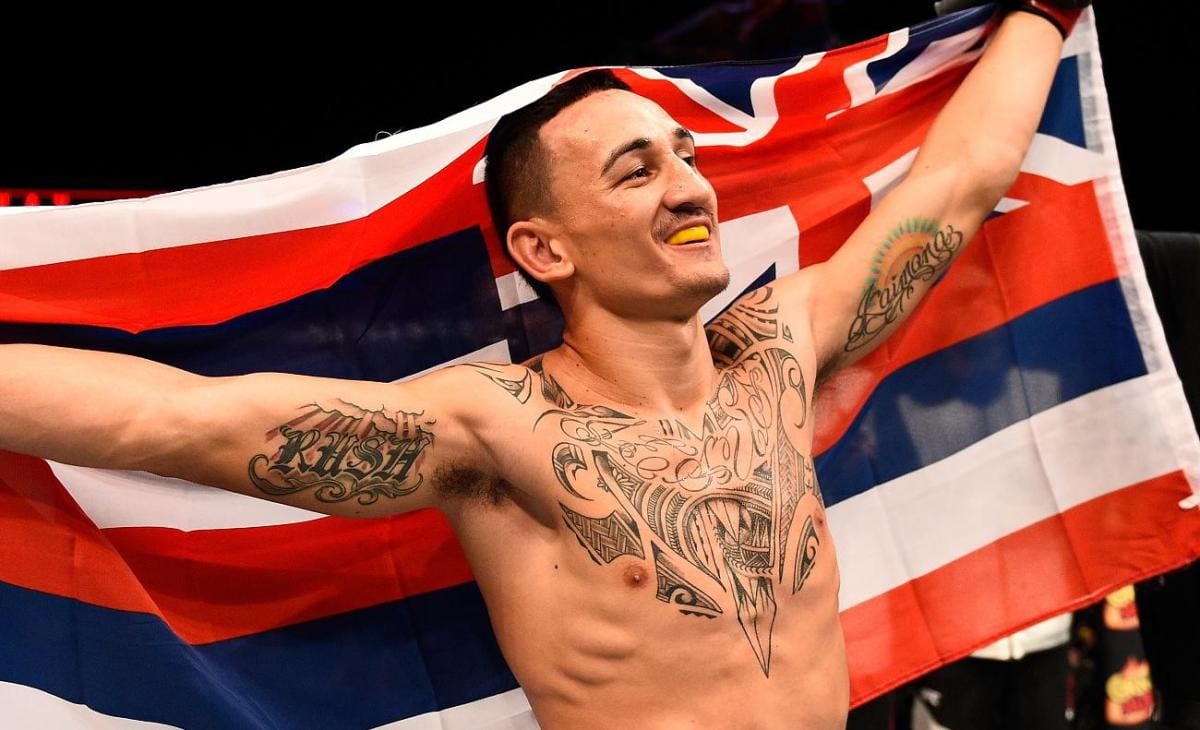 After Max Holloway beat Anthony Pettis earlier this month to claim the UFC's interim featherweight championship, it seem as if everything was aligning for a bout with José Aldo at UFC 208 in Brooklyn next February.
However, there now appears to be a spanner in the works.
In an interview with Ariel Helwani of MMAFighting.com Aldo said that a potential fight with Holloway is now off the table, claiming that the Hawaiian has withdrawn his interest in fighting him — a claim which Holloway rejects.
Aldo claims that Holloway knew that if he was to beat Pettis, he would be booked for the UFC 208 showdown with the Brazilian. However, Holloway says that he was only informed of the UFC's plans by Dana White in the cage moments about defeating Holloway. Initially, he says, he thought he would have 10 weeks to prepare for the bout but on learning it was only eight weeks away — coupled with an injury sustained in the Pettis fight — meant that being ready for a February 11th showdown with Aldo would be impossible.
Speaking to Fox Sports, Holloway said: "I don't know what the hell he's talking about. Telling me I knew before the fight — I didn't know shit before the fight. When they told me in the cage after I won that they wanted the fight Feb. 11, I thought it was 10 weeks away so I'd take two weeks off and then have an eight week camp to get ready for him. Then after everything, my adrenaline was on high and was going crazy, they got me hyped and I said what I said and then I figured out it was eight weeks so I was like holy shit that's fast but I said that's OK we can do this.
"The next morning I woke my fucking ankle was swollen as an elephant's leg. I told the UFC ASAP what was up and I don't know why they didn't announce it, but I went to the doctors as soon as possible and I was told I can't do nothing for four to six weeks.
"No contact, no nothing on my ankle. I can't be kicking, I can't be doing anything. I found out a re-injured an old injury in my ankle and I let them know I'm out four to six weeks.
"I guess he's coming out taunting and running his mouth but at the end of the day if I wasn't injured I'd fight his ass any day of the week. I'd fight him tomorrow."
Holloway also fired back at Aldo's claims that he has never turned down a fight offer. The Brazilian claims that the only reason he rejected the UFC's offer to fight Conor McGregor after Rafael Dos Anjos was that his coach, Andre Pederneiras, did so on his behalf.
"He says he never turned down a fight — you never showed up to six of the fights," Holloway continued. "Great you never turned down a fight, now show up to the damn things. You pulled out of six fights. I don't know he prides himself on 'I never turned down a fight' but then didn't show up for six fights. Get out of here with that talk."
And as for a final message for Aldo, Max Holloway doesn't mince his words.
"He retires and then unretires and now he wants to call the shots? Motherfucker, your belt was handed to you twice. He can go ahead and wait. I had to fight for mine. Get out of here with your crazy talk. Stay healthy and you're going to see 'Blessed' in the New Year."
Comments
comments