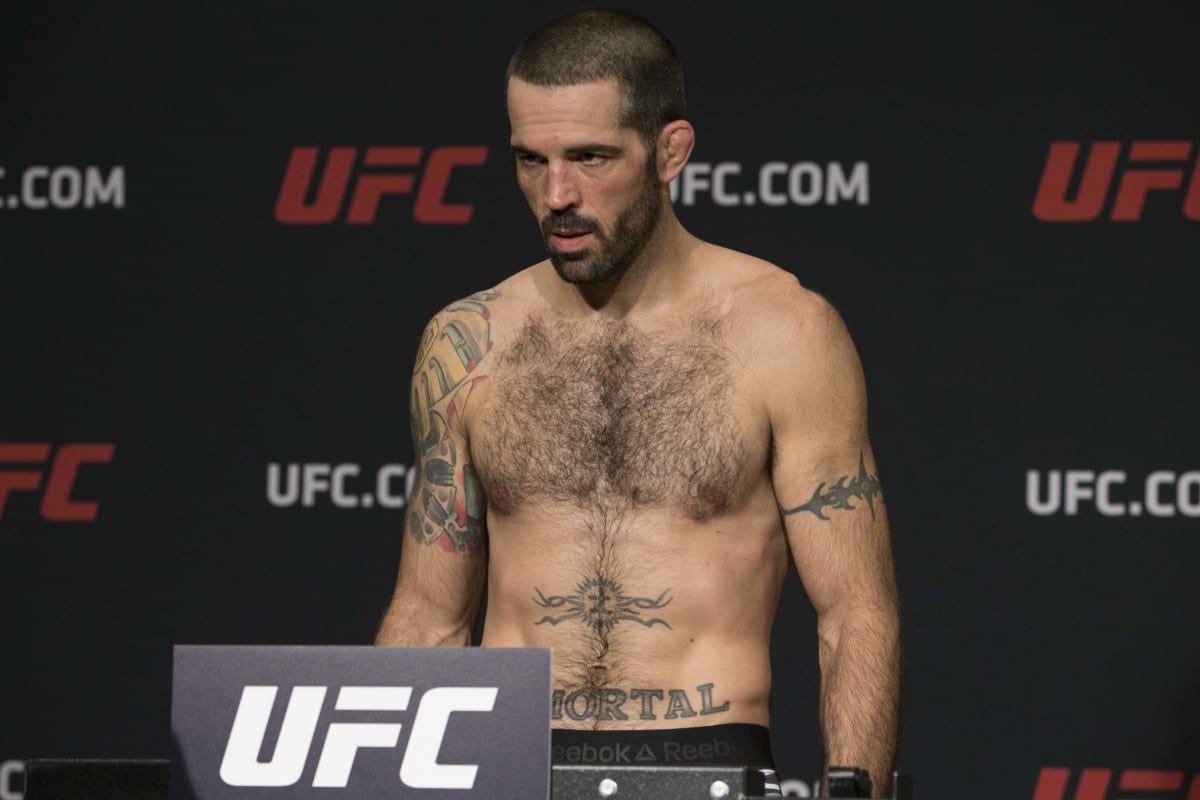 On Saturday night, Matt Brown will step into the cage on the main card of UFC 206 against Donald 'Cowboy' Cerrone and it will be 12 years and 2 days removed from the night he could have lost his life at rock concert.
On December 8th 2004, former Pantera guitarist Dimebag Darrell was shot to death on stage in Columbus, Ohio while playing with his band Damageplan in an apparent random attack by an audience member. Three other people inside the Alrosa Venue lost their lives in the attack.
Matt Brown, who was in attendance that night, was one of the lucky ones.
"I don't remember how long I'd been there, but it was the first song that Damageplan played", Brown recounted to The Fight Network. "You just heard the music little by little start fading off. I looked at Dimebag — I was [nearby] — and I saw Dimebag fall over.
"My first thought was that he was stabbed actually, so I tried rushing the stage. A few other people were kinda pushing towards the stage. Other people had obviously realised what happened and were trying to run from the stage. I heard [the gunman] fire off a few more shots, so I started to run off — not run away, but I started to head towards the door.
"I stopped myself and said, 'I'm not going to get shot in the fucking back.' If he shoots me it's not going to be in the back, I'll be looking at him. I turned back around and someone [right in front of me] got shot, I think in the arm. They didn't get killed. I was like, 'Damn, this is real.'
"I hid behind this concrete barrier and was trying to figure out a way to diffuse the situation, to do something and not just run away from the fucking guy.
"I don't know how long it took, it's all kind of a blur. I saw over to my left an off-duty police officer came in and shot him with a shotgun. At that point I went outside but I came back in and my last memory of the chaotic part was seeing Dimebag laid out on the floor with his guitar still in his hand, shot dead."
A total of 15 shots were fired before the murderer, 25-year-old ex-marine Nathan Gale, was shot to death by the police. Jeff Thompson, Damageplan's head of security, was killed trying to tackle the gunman. An audience member, Nathan Bray, was shot to death while attempting to perform CPR on Darrell and Thompson. The band's drum technician was also injured in an attempt to disarm the gunman.
The incident has gone down as one of the darkest days in rock music history.
Having witnessed something so violent and filled with so much cruelty and anger, it makes fighting a trained martial artist in a cage seem insignificant by comparison.
Watch the video below to see Brown recount the incident.
.
Comments
comments