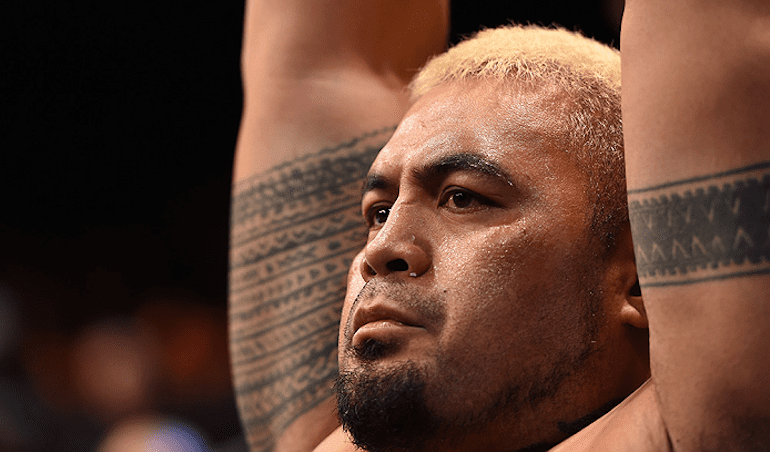 Mark Hunt could finally be stepping back into the cage, after reports have emerged the UFC are aiming at having him face Alistair Overeem at UFC 209, March 4 — although there is still some negotiations to be done.
Hunt, who was last seen in a decision loss to Brock Lesnar, is still displeased after having his opponent test positive for banned substances. And so, in response to the reports (first broken by ESPN's Brett Okamoto), Hunt has made it very clear that he intends to have something in writing that will ensure he'll be 'protected' should it happen again.
"My clause will protect me in this instance and take the financial gain of the opponent of caught cheating, " Hunt said, speaking to his website MarkHunt.tv. "That deterrent will protect me and other fighters. I'm pushing for this clause, I want to fight and I am ready. If the fight doesn't go ahead it's not my doing
"I will not fight without this clause.  I've already fought 3 dopers in a row and I'm not going to fight again without security. All I want is a fair go and an even playing field."
While that clause could turn out to be a stumbling block in getting the fight booked, Hunt is hopeful the UFC will make the arrangements. Should the bout take place, it will actually be a rematch, as Hunt and Overeem clashed back in 2008 — very early on in Hunt's career.
"Overeem was one of my losses over a 7 fight losing streak when I was fighting battles outside the ring as well as inside," he said. "I couldn't have beaten a wooden chair at that time in my life.  I've never lost a rematch and I'm not about to."
UFC 209 takes place in Las Vegas, Nevada on March 4.
Comments
comments