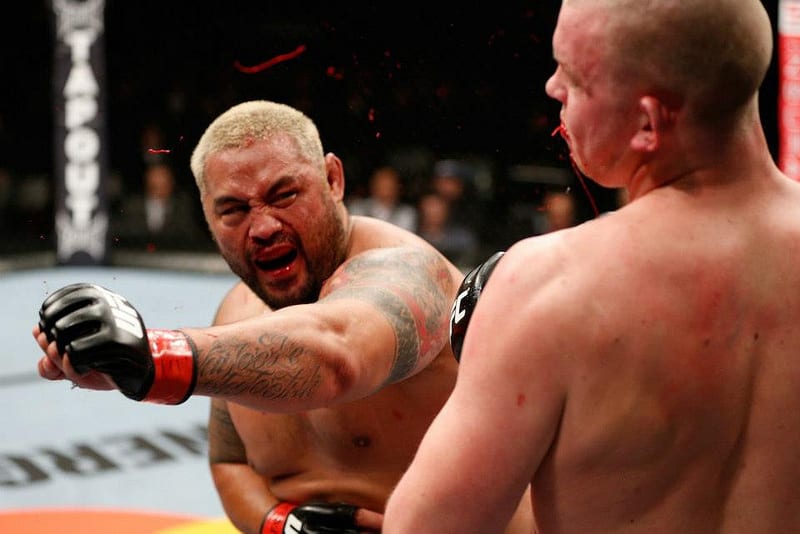 Well. If you thought Mark Hunt was going to get over the fact his UFC 200 opponent Brock Lesnar failed a drugs test, you thought wrong.
Hunt has now filed a civil suit naming the UFC, Brock Lesnar and Dana White as defendants with the Nevada District Court. The suit declares that the parties involved "affirmatively circumvented and obstructed fair competition for their own benefit."
"Without HUNT's knowledge or consent, the UFC conspired and caused LESNAR, a doping fighter, to fight HUNT, a clean fighter, despite the fact that LESNAR used substances banned by the UFC, USADA and WADA," the legal document states.
Hunt is aiming to receive financial compensation for damage to both his physical well-being and to his overall brand as an athlete.
"I want the UFC to understand it's not OK to keep doing what they're doing," Hunt said, speaking with ESPN. "They're allowing guys to do this. They had a chance to take all the money from this guy, because he's a cheater, and they didn't.
"What message is that sending to the boys and girls who want to be a fighter someday? The message is, 'You just have to cheat like this and it's OK.' In society, if you commit a crime, you pay. Why is it different in MMA? It's hurt the business, so it's even worse. They need to be held accountable for this."
In the suit, Hunt also claims the UFC have a history of jeopardising fighter safety in order to make a profit, specifically with allowing known dopers to compete with clean athletes.
As an example, Hunt cites the debacle with the UFC being aware of Vitor Belfort's testosterone levels being 2.5x that of the normal range ahead of his bout at UFC 152 against Jon Jones.
"The UFC willfully concealed Belfort's testosterone exemption, and opponents were not aware that he was granted a TRT exemption, allowing him to maintain abnormally high testosterone levels," writes the complaint.
The move to file the suit, while having been mentioned as a possibility by Hunt in the past, perhaps comes as something of a surprise. Recently the heavyweight had accepted a bout with Alistair Overeem at UFC 209, after citing he had no other option to make money. Many fans took that bout as a sign Hunt was beginning to move on.
Most of Hunt's anger appears to stem from the amount of money Lesnar made for their bout. The professional wrestler, who made his high profile return against Hunt, earned a publicly declared purse of $2.5 million purse, 10% of which Lesnar was fined by the Nevada State Athletic Commission. It is likely, however, he also received a percentage of pay-per-view sales.
Hunt, who earned a disclosed $700,000, has repeatedly stated he believes the punishment to Lesnar was in no way harsh enough, and that at least half of the professional wrestler's pay should have gone to Hunt instead.
It'll be interesting to see how the relationship between Hunt, who is reportedly seeking millions of dollars, and the UFC will continue on. But as the lawsuit says in black and white, the 'Super Samoan' clearly feels hard done by.
"UFC and LESNAR conspired and caused LESNAR to evade USADA drug testing with actual knowledge or reckless disregard of LESNAR's use of prohibited substances. As a direct and proximate result of Defendants' conduct, Defendants caused a doping competitor, LESNAR, to fight a clean fighter, HUNT, in violation of state and federal law and the parties' respective contracts."
Comments
comments