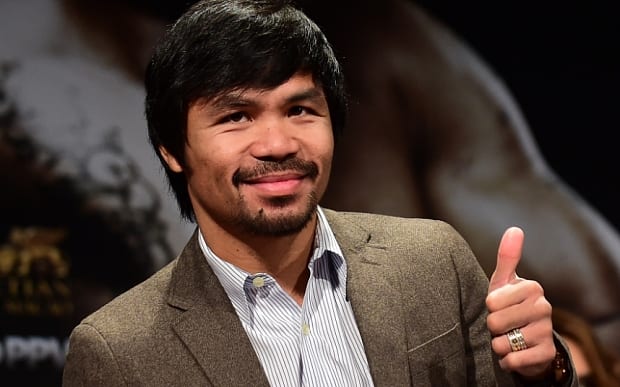 Add another one to the list.
In a time where it seems fashionable for boxing's best to call out UFC featherweight champion Conor McGregor, Manny Pacquiao has become the latest to show an interest in a potential bout with 'The Notorious' one.
Pacquiao, who has recently put his retirement on hold to face boxing welterweight champion Jessie Vargas, spoke at a media scrum this morning where he was asked if he would be interested in a fight with Conor McGregor.
The answer? Yes. As long as it's in a boxing ring.
"Of course," Pacquiao said of his interest in the fight. "As long as it's the rules of boxing. I cannot fight with him in MMA because he knows how to fight MMA. But in boxing.
"It's like how can you fight the shark in the ocean? But if you fight the shark in the dry land…"
With Pacquiao now on the list, that makes it four of boxing major stars to make comments about Conor McGregor. Earlier this year, Floyd Mayweather made headlines when he insinuated that a boxing bout between himself and McGregor was inevitable. Then Amir Khan came out and said he would be happy to face McGregor in the UFC, claiming he would only need a years worth of training to be able to negate any ground game.
Most recently, Canelo Alvarez said that he would fight McGregor as soon as the Irishman wanted to step foot in a boxing ring, in what seemed an angry response at McGregor's comments about boxers cherry-picking fights.
Although these bouts are all currently hypothetical, McGregor himself played into the rumours following his victory over Nate Diaz at UFC 202. When asked about what could be next, McGregor made a point of noting "there's a lot of options, some might not be this sport."
Comments
comments