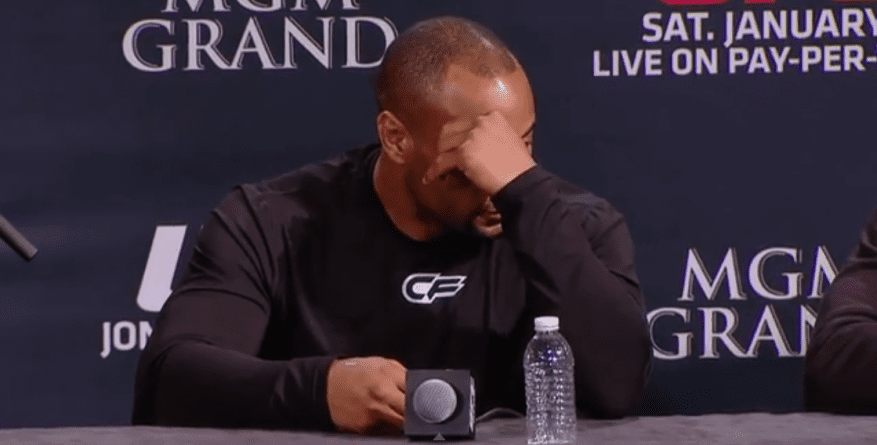 At the UFC 200 pre-fight press conference we saw a very focused Daniel Cormier. A man who for the last couple of years has been going back and forth with his nemesis Jon Jones. A few hours after the conference had ended the man that stood before the media was one that was visibly distraught.
The current UFC light heavyweight champion was days away from fighting the only man to hold a victory over him. The scheduled bout between himself and Jon Jones was now off due to a potential USADA anti-doping violation.
Once the news broke the UFC set up a press conference and the "heartbroken" Cormier addressed the situation he currently faces:
        "I'm very disappointing," Cormier said. "I worked really hard to prepare for this and, you know, take care of what you can take care of and that's what I did. But more than anything, just really disappointed. To hear something like this from a competitive standpoint from a financial standpoint, there are a number of ways this is disappointing. I really don't know how to explain how I'm feeling right now."

Cormier is not only looking at losing the opportunity at revenging his only loss but with no Jones he will potentially lose out on a huge pay day aswell. However the defending light heavyweight champion is open to fighting a replacement on just two days notice:
        "I've trained hard and long, if anybody would fight, I would fight. Why not? I understand the difficult task it would be in two days [notice]. I'd put some weight on, you know, 225, 220, I'll fight. But I can't fight a really big guy right now because I've been shrinking my body to make 205. If it doesn't make sense for the organisation or for me, it doesn't make sense. We have always been in tune, me and the UFC, and we made these decisions together."
Watch full interview

As far as replacements for Jon Jones there have been some names that have made it clear they would like this fight. Gegard Moussasi is one such name who keeps popping up. The former StrikeForce light heavyweight champion is fighting on the preliminary card of UFC 200 on Saturday against Thiago Santos and would be in fight shape should he get the call.
Another fighter to throw his name in the hat was the new middleweight champion Michael Bisping, who is also in Las Vegas but working for Fox Sports as an analyst.
Alexander Gustafsson tweeted that he could be in Las Vegas in a matter of hours should the promotion need him to be. Uriah Hall and Jimmy Manuwa also tweeted their interest in this fight so the options while they may or may not make sense are out there.
I can be in Vegas by 10pm tonight, just waiting for the call. @danawhite @lorenzofertitta @Ufc @dc_mma pic.twitter.com/rONKPJxvRJ

— Alexander Gustafsson (@AlexTheMauler) July 7, 2016
There has yet to be any official word from the UFC regarding a replacement, but Dana White did mention they would have to look at "who's available" and "who's willing."
Hopefully for both Cormier and the fans not only in Las Vegas but around the world a replacement can be found and Cormier gets to stay on the card he trained so hard to headline.
Writer Nick Strickland
Comments
comments