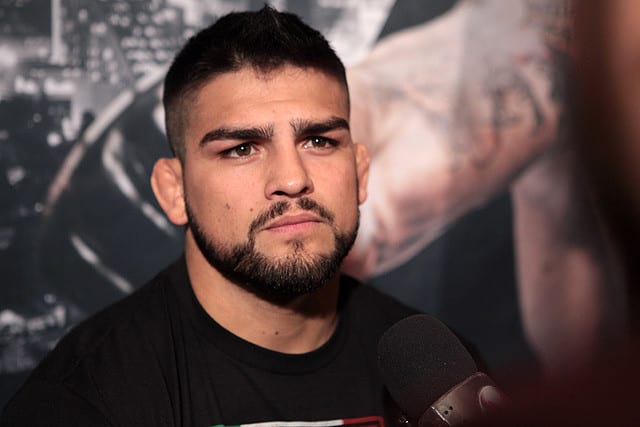 As reported yesterday, the six month suspension imposed on Kelvin Gastelum by the New York State Athletic Commission has been lifted, allowing The Ultimate Fighter season 17 winner to compete against Tim Kennedy at next month's UFC 206 in Toronto.
The suspension was levied against Gastelum for failing to appear at the UFC 205 weigh-ins earlier this month where he was scheduled to face Donald Cerrone in New York, after the fighter admitted that he would not be able to make the contracted weight limit of 171-pounds.
Given that this was the latest in a long list of occasions where Gastelum missed weight (or in this case, didn't attempt to make weight), the UFC mandated a move up to the middleweight division where he will now face Tim Kennedy — himself a fighter whose UFC 205 bout with Rashad Evans fell off the card on the eleventh hour.
However, Gastelum agreed to pay a fine to bypass the suspension which frees him up to compete on the December 10th card. Speaking to FOX Sports, representatives of the New York State Athletic Commission confirmed that Gastelum is now licensed to compete next month in Canada.
"The disciplinary action against Kelvin Gastelum has been settled prior to hearing for the payment of a $2,000 fine.  The matter is now closed", the commission said in a statement.
Gastelum has had a long history with missing weight in his tenure with the UFC. Though he won the 17th season of The Ultimate Fighter at middleweight, Gastelum immediately signaled his intentions to drop down to the 170-pound division, citing a strength and size disadvantage he felt in the finale against Uriah Hall — a fight Gastleum won by split decision.
However, Gastelum's time spent at welterweight was a mixed bag of success and failure. He earned high profile victories over the likes of Johny Hendricks, Rick Story and Jake Ellenberger but missed weight in bouts against Nico Musoke and Tyron Woodley (by a mammoth 10 pounds), drawing the considerable ire of UFC president Dana White.
Gastelum is one of those unfortunate fighters whose ideal fighting weight likely lies somewhere in between the welterweight and middleweight divisions. Mixed martial arts, with its much broader weight limits when compared to boxing, doesn't allow its fighters very much room to manoeuvre when it comes to fighting weights and it is athletes like Gastelum who appear to be stuck in between two separate divisions.
Nonetheless, if a fight contract is signed for a particular weight limit then that agreed stipulation must be adhered to and Gastelum's repeated inability to weigh in as a welterweight means that middleweight is his new home for the foreseeable future — and that means that he will be faced with naturally bigger opponents from this point forward.
It remains to be seen if Gastelum will be able to parlay his success at welterweight into the division above it but his December 10th bout with Tim Kennedy will give provide us with some considerable evidence.
The UFC, its fans and Gastelum alike will hope that his weight issues are now behind him. You get the sense that his future in the UFC relies upon it.
Comments
comments