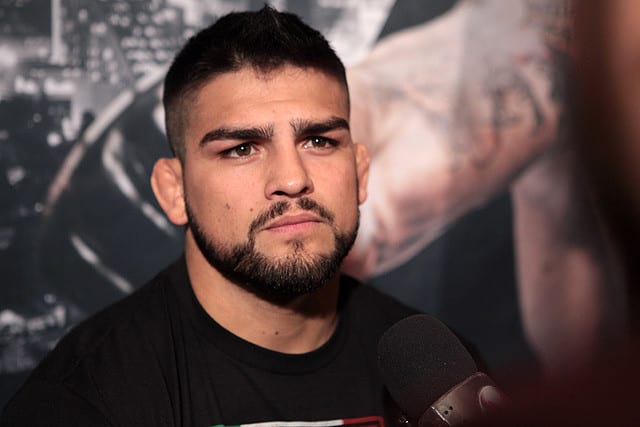 When Kelvin Gastelum went up to middleweight at UFC 206, it was (according to him), supposed to be a one time thing.
A welterweight that has had serious issues making weight mostly, by his own admission via discipline issues, Gastelum faced Tim Kennedy last month after UFC president Dana White announced publicly that he would no longer allowed the youngster to fight at 170-pounds.
And while Gastelum declared he fully intended on going back down, he did acknowledge there were bouts he would accept. Just like his current booked fight against Vitor Belfort.
"I kind of just threw the name out to see what happens and they gave me the fight, so let's do this," Gastelum said, speaking with MMAFighting. "They gave me the fight against a legend, Vitor, a main event fight here in Fortaleza. I got a new contract, so there's just a lot of factors where I couldn't say no to this fight. It's a great opportunity."
Today, the two finally met face to face and Gastelum got the feeling that Belfort — a man who appears on the very tail end of his career — isn't taking the entire affair lightly.
"It was intense," Gastelum said. "I don't think he wants to be my friend right now, so I kind of just kept my distance and that's it. Let's do our jobs and we're just gonna keep each other a distance right now.
"Every fighter is different. When I was going to fight 'Cowboy' Cerrone, he was hugging me, we were riding the same van together, everywhere together. He was friendly, you know? Vitor likes to keep distance from his opponent, not talk. We have to be separate, you know? Every fighter is different.
"I like to be respectful. Whatever my opponent wants. If he wants to say hi to me and be friendly, then I'll be friendly back. But if he doesn't, I'll give him that space. It just depends on the fighter. But I can be friendly with everybody. We're gonna fight either way."
But, regardless of White's words and regardless of how impressive he looked at UFC 206, Gastelum maintains this is nothing but a stop gap on his way back down to welterweight.
"I'm not against [remaining at 185], but I feel like welterweight is my optimal weight class. But I'm not against staying at 185," Gastelum said. "What I want is the No. 1 contender fight after this fight, whether it's at middleweight or at welterweight. I want to fight for the No. 1 contender so I might get my title shot. But it doesn't matter if I'm at middleweight or welterweight, I just want to fight the No. 1 contender.
"That's the only fight I'm willing to take," he said. "I'm not gonna take any other fight other than the No. 1 contender fight."
Comments
comments