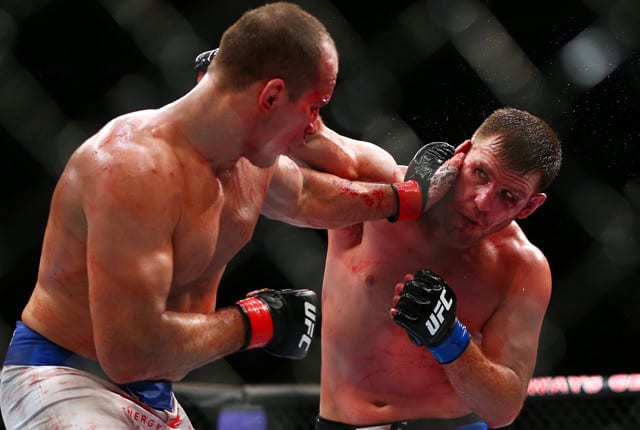 Junior dos Santos is a man on a mission.
Originally scheduled to face Stefan Struve at the upcoming UFC event in Halifax, dos Santos found himself without a fight date when the Dutchman was forced to withdraw through injury. Lucky for dos Santos, though, there's another heavyweight currently looking for a contest.
After the UFC 207 bout between Cain Velasquez and Fabricio Werdum was scrapped due to Velasquez not being issued a license to compete, and with Werdum apparently unwilling to face dos Santos to work out a number one contender, UFC heavyweight champion Stipe Miocic is without any foreseeable opponent.
And so, enter dos Santos.
"The way I see it, the way the division is going now, the other guys who were supposed to be ready to fight for the title are Werdum and Velasquez," dos Santos said, speaking to Fox Sports. "Man, they are coming from a victory over Travis Browne, who is maybe not even in the top 10 anymore. So it doesn't make sense. The right thing to do right now is to give me the title shot."
"I already beat the champion. That's the fight for the UFC to make now. Me against him, fighting for the title no doubt. Everything is stopped right now and we need keep the division going. This is the most dangerous and exciting division in any martial arts sports so let's do it."
Dos Santos and Miocic have faced one time before, with dos Santos emerging the victor on that occasion via judges decision. And, while dos Santos doesn't have any ill will towards the champion, that doesn't affect his desire to face him once again.
"He's a great champion. I really like him because he's a fair fighter. I don't see him cheating or doing any crazy things. I see him as a good example to other fighters," Dos Santos said. "But I have to tell you there is just one No. 1 in the world.
"There's just one heavyweight champion. Just one baddest man on the planet. And that one guy is myself."
Comments
comments