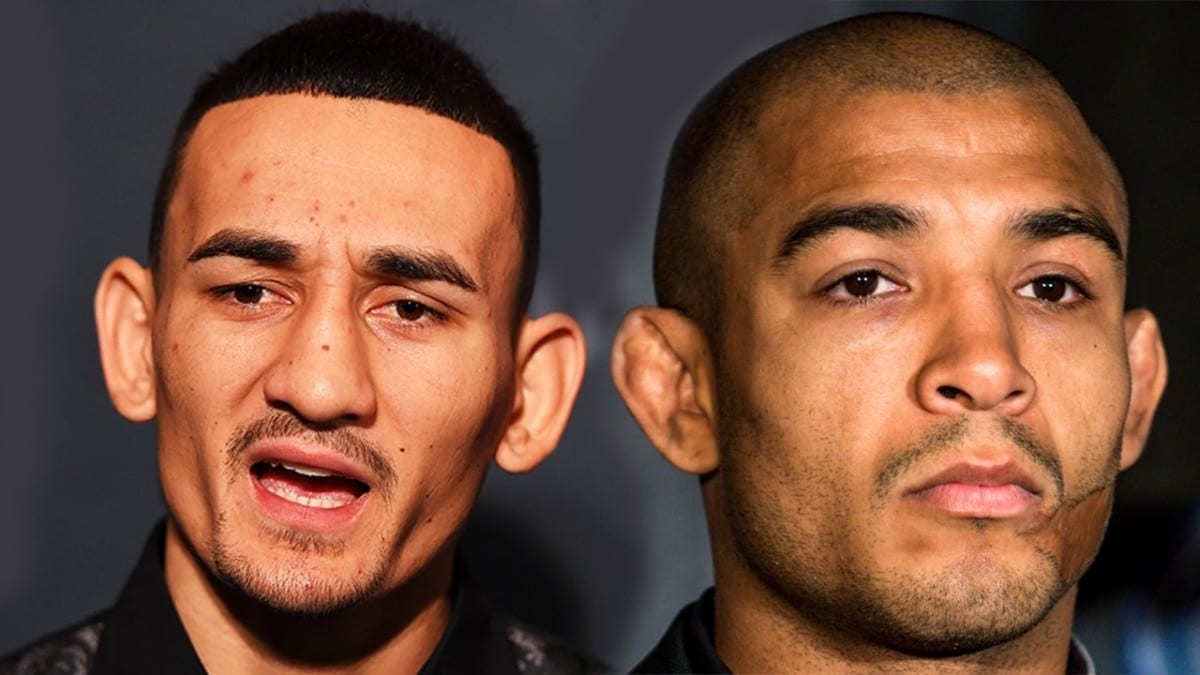 When Max Holloway defeated Anthony Pettis on Saturday night, it didn't take long for him to call out featherweight champion Jose Aldo.
Prompted by UFC brass in the cage, Holloway took to the microphone and said "We couldn't fight Aldo, so I started calling him Waldo. Jose Waldo. Hashtag Jose Waldo. I tell him, meet me in Brooklyn."
The Brooklyn event he's referring to is UFC 208, which takes place February 11 — a date that, apparently, Jose Aldo accepts.
"He's saying 'where's Aldo?', you have to talk to the UFC," Aldo said, speaking with Brazilian media (according to MMAFighting) "About the fight in February, I already knew that, I only didn't know who I would fight. It was between him and Pettis, whoever won the fight. It's not something new. This fight will happen on February. 11."
While Aldo seems prepared to take the bout, it may actually be Holloway himself who requires a date change. After his in-ring call out of Aldo, the adrenaline started to lower and Holloway began to think of his Christmas.
Speaking to FOX Sports, Holloway responded to Aldo's comments, and poured water on the potential Brooklyn bout.
"It's news to me. I guess we found where Waldo is so I'm glad. It's time to see what happens," Holloway said. "We're going to talk to the UFC, see what UFC says or see if he's just trying to [expletive] start some [expletive]," Holloway said.
"Like I said, I'm not planning on giving up Christmas and my son's birthday for something that's going to be booked and Feb. 11 comes up and we're going to be (expletive) looking at where's Jose Waldo.
"That guy is crazy. I just looked and it's eight weeks out already. That's why that mother (expletive) wants to fight," Holloway said. "He wants me to be all drained out from two training camps in a row but that (expletive) ain't going to happen.
"My son's birthday is in January and we've got Christmas and I promised him I would take him to Disneyland. We'll see what happens. I'm not trying to miss my son's birthday, I ain't about that life. I'm a father and I've got to do father things."
Those commitments, inspired by fatherhood or not, don't impress the Brazilian champion.
"I think everybody has a family," Aldo said. "Everyone has kids, dates, everything. So if you want to be champion, there's no such thing [as picking dates].
"I've fought events like Super Bowl and trained during Christmas and New Year's and it was never a problem for me. So it's very easy to analyze and see who's the one that's not going to show up. This was already certain, like I said. It was certain, and the UFC already had these dates in mind. We just hadn't announced it because [Holloway vs. Pettis] needed to happen first."
With UFC 208 the next pay-per-view event on the calendar, there is no doubt the UFC will try and make the fight happen in order to fix the featherweight title picture. Fans will just have to wait and see if it all comes to fruition.
Comments
comments