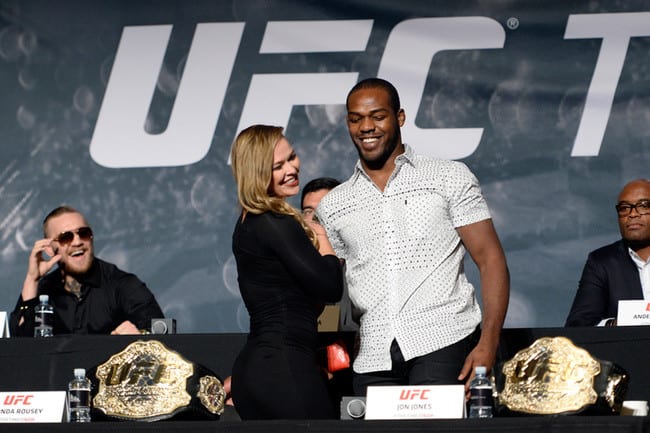 Jon Jones has experienced a lot of ups and downs in his fight career.
The former UFC light heavyweight champion, currently serving a USADA mandated suspension for a test failure prior to UFC 200 last July, is considered by most to be one of the top pound-for-pound fighters in the sport but his career has been dogged by setbacks — most of them by his own hand.
Jones knows better than most what it takes to reassert oneself back into the sport which has defined him and, having watched Ronda Rousey's 48-second knockout loss to Amanda Nunes in the main event of UFC 207 on Friday night, took to Twitter to offer words of advice to the former women's bantamweight champion.
In the series of tweets posted on New Year's Eve, Jones wrote that Rousey will be a champion for the rest of her life regardless of whether she decides to step into the cage again and added that perhaps she should consider moving to a different MMA camp.
He signed off by saying, "Constantly being humbled is never a bad thing in a sport like this."
And coming from Jones, a fighter who will make his return to the fight game this summer, this seems like advice well worth following.
My advice to Ronda would be to pick yourself up and try again.

— Jon Bones Jones (@JonnyBones) December 31, 2016
I believe Rousey will be a champion for the rest of her life, even if she never wins another fight

— Jon Bones Jones (@JonnyBones) December 31, 2016
I think it's important for Ronda to show her fans how great she truly is by displaying her courage and giving it another try.

— Jon Bones Jones (@JonnyBones) December 31, 2016
What she does next will truly determine her legacy. I really hope she chooses to be a unbroken. Her story doesn't have to be over here

— Jon Bones Jones (@JonnyBones) December 31, 2016
I also still believe she beats 90% of the division. Lots of ass kicking still to be done, lots of money to be made

— Jon Bones Jones (@JonnyBones) December 31, 2016
Maybe she just needs to complement her coach with an MMA family. Maybe she should join one of the bigger MMA teams

— Jon Bones Jones (@JonnyBones) December 31, 2016
Being around other bad asses and constantly sharing your spotlight could be good for you and so many ways. They can improve on your humility

— Jon Bones Jones (@JonnyBones) December 31, 2016
Constantly being humbled is never a bad thing in a sport like this

— Jon Bones Jones (@JonnyBones) December 31, 2016
Comments
comments