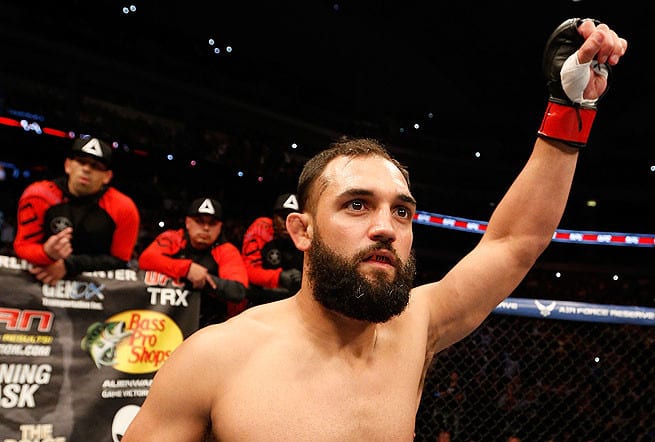 In 19 days former UFC welterweight champion Johny Hendricks will make his middleweight debut against Hector Lombard at UFC Fight Night 105. A loss in his first bout at 185-pounds would be his fourth straight, a fight record which makes the appearance of a pink slip in his mailbox all the more likely.
Hendricks' missed the 171-pound welterweight limit in his two most recent bouts against Neil Magny and Kelvin Gastelum and Bigg Rigg hopes the move north to the 185-pound division will be beginning of a new chapter and go some way to erasing the memories of his unhappy departure from the welterweight fold.
In an interview with DallasNews.com, Hendricks elaborated on the difficulties he had making weight and suggests that if he had given his body more of a break following his collegiate wrestling career he might have avoided the weight cutting problems which have plagued his recent career.
"It's not like I'm fat at 170", Hendricks said. "I've been cutting since I was 13 or 12. I am only getting older. It's a point where enough is enough.  It's killing me. My body told me that. It's time I listen or I will end up in hospital. Each person's body is different. (UFC welterweight champion) Tyron Woodley, he gets to 205 (pounds), but he also took off for three years after college. Maybe that time let him get away from that. As soon as I graduated (from Oklahoma State), I started to cut weight again. What if I had taken two years off? Would I have those problems right now?"
Hendricks rejects suggestions that his diet in between fight camps or — worse still — laziness is to blame.
"I'm training two times a day, hot tubbing two times a day, running four to eight miles to make 170 (pounds), and I did that for five weeks. My kidneys just shut down. It messes my body so much. That's when I said I'm over it."
While Hendricks remains keen to put these issues to bed and move on with his career, he says he recognises that four losses on the trot would not be a good move for him if he is to harbour realistic intentions of cracking the divisional elite at 185-pounds.
"I don't know what the future holds", he continued. "You win this fight and UFC might come back and offer me another fight. They might not. If I go out there and compete like I know I can, some other person might say come fight for us. That's where I sit down with my wife and say, "Do we still want to do this?" … I know what I need to do. If it happens, it happens. For every one door that closes, there's one that opens up.
Let's say I go out there and lose this fight and no one wants me. I can look back and say I don't have any regrets."
Comments
comments