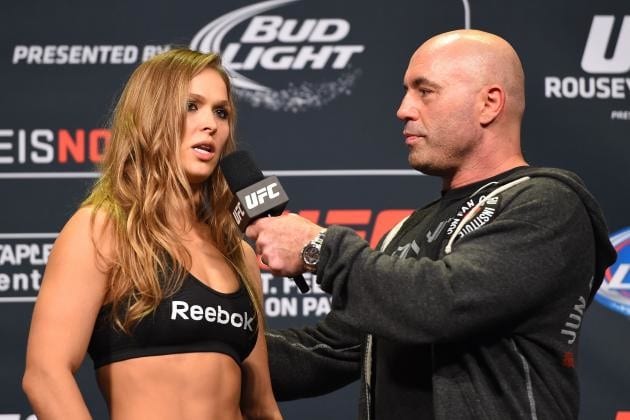 Ronda Rousey's appearance on Ellen, where the former women's champion stated that her fight at UFC 207 would be one of her last, certainly raised a few eyebrows in the world of mixed martial arts.
The old adage, as Dana White says, is that when a fighter begins discussing walking away, they probably should. Someone else who feels the same way, is long time UFC commentator Joe Rogan.
"She put women's MMA on the map," Rogan said of Rousey, speaking to TMZ. "If it wasn't for her, there's a lot of women coming up who probably wouldn't have gotten into martial arts, or gotten into MMA; into fighting. So it's exciting to see her come back if she wants to come back. But whenever someone starts saying 'a couple more fights and then I'm going to go into movies', man, I don't like hearing that.
"When you have one foot out the door, you should probably put both feet out the door. But she might not really have one foot out the door, you don't know. I haven't talked to her in a long time. I know she's a fierce competitor."
As for the long rumoured fight between Cris Cyborg and Ronda Rousey?
"Oh, I don't know man, Cyborg scares the fuck out of me," Rogan said. "She's so big, she's so ferocious and she's very talented. I just don't think they're in the same weight class.
"That said; if it happens, I'm gonna watch."
Comments
comments