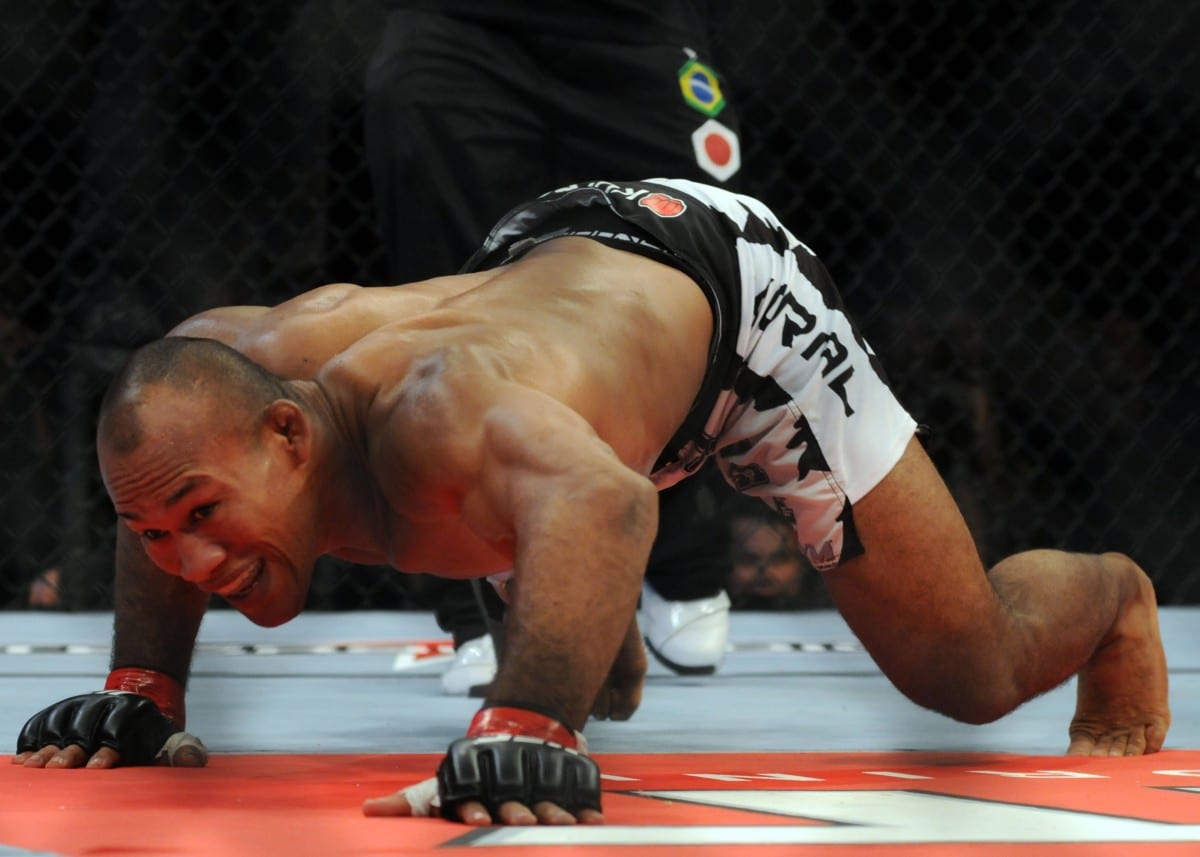 As undeniably interesting as Georges St-Pierre's return to the UFC in the middleweight division undeniably is, the Canadian superstar's return to an immediate title shot in a weight class in which he has never competed presents a problem to the rest of the 185-pound fold.
St-Pierre challenges Michael Bisping for his title later this year in what will be his first fight in more than three and a half years and in doing so, bypasses the division's number one contender Yoel Romero, along with other contenders like Luke Rockhold, Chris Weidman and Ronaldo 'Jacare' Souza — all of whom have been plying their trade in the middleweight division for years.
Souza, who faces Robert Whittaker at UFC on FOX 24 in April, appears to be losing patience with the logjam atop the division.
Speaking to the media in Brazil and as reported by MMAFighting, Jacare said that he would consider retirement from the sport instead of waiting patiently for a title bout that may or may not materialise.
"Oh, man, I'm motivated in fighting," Souza said. "That doesn't demotivate me at all. I'm motivated by the challenge that my opponent brings. The belt is the consequence. I'm a believer in God, everybody knows that. When I'm choosing my fight, I put a knee on the ground and ask for God to choose a fight for me, and it's happening.
"I'm happy to be fighting," Jacare continued. "But I have no problem stopping fighting. I stopped competing in jiu-jitsu in 2005 when I was at the top of my career, and if I think it's too much for me, that I'm full of it, I can stop fighting. That's it. I can open my own gym, make as much money as I make fighting, and be happy. I have this dream of having my own gym, so I have no problem stopping fighting.
I'm hungry to fight, to do my job," Souza said. "That's not something that affects me. Everybody sees I'm excited, I want fights. Unfortunately, it's not the fight I wanted. I wanted Luke, everybody knows that. Everybody knows I asked for Romero too. I'll tell you the truth, the only guy in the UFC I truly don't want to fight is (Gegard) Mousasi because he's trouble.
"I fought him, the truth is that I was in a good day, and he wasn't in a good day, and he will show that to everyone when he fights Chris Weidman. You'll see how good Mousasi is. But the criteria with me is completely different."
"When we were coming up, everyone together, they said Jacare didn't fight tough opponents, Luke Rockhold fought The Barbarian, who I just fought, and demolished him. Man, I also demolished him, but now that I fought him he's nothing? Jacare fought Belfort in the end of his career, but how about Lyoto? He was bad when he got demolished by Luke and Romero. They use a different criteria when it's me. When it's me winning, they come up with excuses.
"Lyoto defeated Mousasi and fought for the belt. I not only defeat Mousasi, but I did it convincingly, submitted him, and didn't fight for the belt. Those are things that happen to me, and I think it's weird. I don't sell (pay-per-views)? Cut the bullsh*t. You don't know what you're talking about."
Comments
comments